7:57pm: The trade is official, according to press releases from the Jazz and Cavaliers. The terms of the deal are as follows: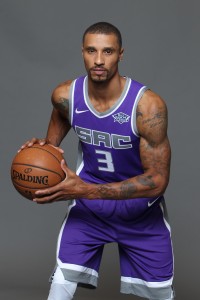 1:41pm: ESPN's Brian Windhorst adds more details on this complex three-team deal, tweeting that the Kings will receive $2.1MM from the Cavs and $1.1MM from the Jazz. Utah will have the option of swapping second-round picks in 2024 with the Cavs. Cleveland also acquired the draft rights to Arturas Gudaitis from the Kings and surrendered the draft rights to Dimitrios Agravanis.
12:03pm: A busy day in Cleveland continues, as the Cavaliers have agreed to acquire Rodney Hood from the Jazz in a three-team trade, according to ESPN's Adrian Wojnarowski (Twitter links). The Cavs will also receive George Hill from Sacramento in the deal, with the Jazz acquiring Jae Crowder and Derrick Rose.
The Kings will get Joe Johnson and Iman Shumpert, per Woj (Twitter link). TNT's David Aldridge tweets that Sacramento will also acquire a future draft pick and cash considerations, with Sam Amick of USA Today providing some details (via Twitter), reporting that the pick will be Miami's 2020 second-rounder from Cleveland. The Kings will also get a little over $3MM in cash, Amick adds.
The move, which comes on the heels of the Cavs reaching a deal with the Lakers for Jordan Clarkson and Larry Nance Jr., further reshapes a Cleveland roster that will look a whole lot different by the end of the day than it did at the start of it.
By surrendering Crowder, Rose, and Shumpert in exchange for Hood and Hill, the Cavaliers will take on about $4MM in extra salary, and far more than that in projected tax payments. However, the cost of the deal may be worth it for the on-court impact, as Crowder, Rose, and Shumpert have all underperformed and/or battled injuries this season.
Hood will give the Cavs a young, perimeter scorer who has fought through some injuries of his own, but has enjoyed a career year when he's been on the court. In 39 games, the 25-year-old has averaged 16.8 PPG on .424/.389/.876 shooting. As for Hill, the veteran point guard has struggled mightily in Sacramento this season, but has historically been a good shooter (.454/.384/.800 career shooting line) and a solid defender. His ability to play off the ball should make him a good fit to play alongside LeBron James.
Hood will be a restricted free agent this summer, while Hill remains under contract for two more years beyond this one. He'll earn $19MM in 2018/19, and has a $18MM salary in 2019/20 that only features a very small partial guarantee.
From Utah's perspective, the trade will allow them to get out from under Johnson's $10.5MM salary — the veteran forward was viewed as a buyout candidate if he had remained on the roster through the deadline, and will likely remain a buyout candidate in Sacramento. The Jazz had to give up Hood as part of the deal, but he had been mentioned frequently in trade rumors in recent weeks and no longer appeared to be part of the club's long-term plans.
In exchange, Utah will acquire Crowder, who has a reputation as a solid three-and-D wing on a team-friendly contract despite his struggles this season, and Rose, who may not be in the team's plans. Shams Charania of Yahoo Sports tweets that the Jazz will likely release Rose.
As for the Kings, they'll get out from under Hill's expensive multiyear deal, acquiring Johnson's expiring contract as well as Shumpert, who has a $10.3MM+ player option for next season. The deal creates nearly $9MM in 2018/19 cap flexibility for the Kings, and also nets them that aforementioned 2020 pick and some cash. Sacramento had committed to playing its young players over its veterans down the stretch this season, so Hill's playing time had been sporadic.
Photo courtesy of USA Today Sports Images.