The Timberwolves have officially signed fourth-year wing Andrew Wiggins to a rookie scale extension, the team confirmed today in a press release. Although the club's announcement didn't mention the terms of the agreement, previous reports have indicated that Wiggins will get a five-year, maximum salary contract with no player option. The deal projects to be worth about $146.5MM, based on the latest cap estimates for 2018/19.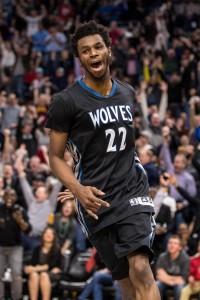 "We're very excited that Andrew has decided to commit his future to the Timberwolves," head coach and president of basketball operations Tom Thibodeau said in a statement. "We feel strongly that he is just scratching the surface of the player he will become. Andrew is among the elite young talents in our league and the sky is the limit for him."
Today's announcement ends a saga that had unexpectedly dragged out for the last couple months. Timberwolves owner Glen Taylor publicly stated during the summer that he was willing to put a five-year, maximum salary offer on the table for Wiggins if he could meet with the former No. 1 overall pick face to face first. Taylor wanted a verbal commitment from Wiggins that he was committed to both the Wolves and to improving his game.
Although Taylor and Wiggins had that meeting, an agreement was delayed further when the 22-year-old filed paperwork to part ways with agent Bill Duffy, who had negotiated the deal. Having put the extension together, Duffy will still receive a cut of Wiggins' new contract, but the timing of the change was unusual. It postponed the completion of the deal while Wiggins secured new representation, and ultimately the Wolves forward didn't finalize the agreement until five days before the October 16 deadline.
Now that it's official, Wiggins will be locked up through the 2022/23 season, with his new five-year pact going into effect next July. Currently, the NBA is projecting a $101MM salary cap for 2018/19, which would result in a starting salary of $25.25MM for Wiggins. His deal would increase by 8% annually from there.
For the Timberwolves, it's a significant investment in Wiggins, who has developed into one of the NBA's most dangerous scorers, but struggled on the defensive side of the ball last season, and doesn't contribute much in other statistical categories. Wiggins increased his three-point percentage to 35.6% in 2016/17, which was easily a career high, but averaged a modest 4.0 RPG and 2.3 APG. He'll be counted on to continue to develop further under the tutelage of offseason addition Jimmy Butler.
Taking into account Wiggins' projected salary and Karl-Anthony Towns' team option, the Timberwolves now have nearly $108MM in guaranteed salary on their books for 2018/19. That figure doesn't include various player or team options for Jamal Crawford, Shabazz Muhammad, and Tyus Jones.
Wiggins is the fourth player eligible for a rookie scale extension to agree to terms on a new deal. Joel Embiid (Sixers), Gary Harris (Nuggets), and T.J. Warren (Suns) also reached agreements with their respective teams.
Remaining extension candidates such as Rodney Hood, Marcus Smart, Jusuf Nurkic, Clint Capela, and Jabari Parker will have until the end of the day on Monday to sign deals of their own — otherwise they'll be eligible for restricted free agency next summer.
Photo courtesy of USA Today Sports Images.