Jahlil Okafor is free. While he still faces competition for minutes in his new home, he's finally in an environment where he can simply focus on playing basketball, instead of having to keep an ear out for potential rumors about what team he may be going to next.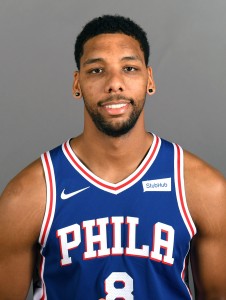 I recently caught up with Hoops Rumors' own Austin Kent, who's also the owner of Sports.ws, an advanced fantasy basketball platform that allows users to compete based on players' efficiency rather than their aggregate stats. We discussed the Okafor deal, and touched upon a few other notes around the NBA. Here's our conversation:
Chris Crouse: Let's start out with the Nets' side of the deal. What are your initial thoughts on the haul they received for Trevor Booker?
Austin Kent: I love the Okafor trade. I think we're going to see him return to 18-and-8 form by the end of the season. This feels similar to the Jusuf Nurkic situation last year. An exit was just so necessary – and in this case so obvious.
Much has been said about Okafor's defense, but I think Brooklyn is in a great position to develop him on that end. They at least have incentive to do so. Worst-case scenario, they platoon him with Jarrett Allen depending on the situation.
CC: Allen and Okafor should make an interesting combination. I like the rookie's game and he could certainly help to compensate for Okafor's deficiencies in traditional two-big-men lineups.
Call me crazy, but I think Okafor still has All-Star potential. Not this season, but down the line, regardless of whether he stays with Brooklyn past this year. (The Nets can only offer him a first-year salary of $6.3MM because Philly declined his fourth year option, so the franchise is far from a lock to keep him long-term). He simply has too much offensive talent not to be a force.
As of this writing, the former No. 3 overall pick is available in roughly 78% of ESPN leagues. That seems egregiously high.
AK: Okafor is a must buy in any format, but even in real life I think you're going to see people start to come around to his value. I think we may have over-corrected in our small-ball hysteria and written off guys like him (and Enes Kanter and Greg Monroe) a bit too early.
CC: Kanter has really impressed me this season. Over the last seven games, only DeAndre Jordan and Andre Drummond have more rebounds per contest than the Knicks center. He's pushing to be the real prize in the Carmelo Anthony deal for either side.
Kanter's departure has given Steven Adams more opportunity. Thoughts on his game and how the Thunder's new parts are all coming together?
AK: I think you really have to give Adams credit for buying into his role and constantly improving within it. I don't think he'll continue to average 19.5 points per game or shoot 72.3% from the field (as he has over his last four), but he's taking advantage of defenses having to account for the bigger names on the roster.
Ultimately, I think you'll see the Big Three turn into a Big Two as George and Westbrook take over as co-alphas with Anthony sliding into more of a peripheral role.
CC: Would you rather have Adams or Anthony in fantasy going forward?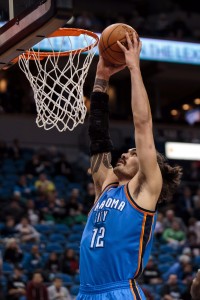 AK: I'd go with Adams. Even if he ends up at around 13 points per game on the season, you know he's going to get his rebounds and chip in a few defensive counting stats. He has a nice floor in that sense and you're not going to get burned or be disappointed. Anthony, on the other hand, is a scorer that's going to have to learn to produce in a way that he's never been asked to and may not have even seriously considered when he arrived in Oklahoma.
CC: I'm leaning toward Adams in Roto formats, but Anthony in points leagues. I might even take Adams over someone like DeAndre Jordan. Speaking of the big man, in your Clippers Free Agent Stock Watch, you mentioned how Jordan's free agent stock was heading the wrong way. Do you believe it would improve if he's dealt elsewhere, provided the new destination would be a long-term home? Also, thoughts on his fantasy stock if he's sent to Milwaukee this winter?
AK: I think we've already seen Jordan's peak and that was just the result of certain stars aligning. No situation, whether it be Milwaukee or elsewhere, will ever bring out more in Jordan than that 2013-17 window did. For four years, Jordan was a rain-or-shine starter in a fast-paced offense, fortunate enough to be in prime athletic form, yet experienced enough to understand the NBA. Most importantly, he was in the same lineup as Chris Paul.
I'd give Jordan a few more years of pumping out double-doubles wherever he goes because he's still just 29  years old, and has a lot of clout from his role on a pretty good Clippers team. But I think you're going to see a relatively fast fall from grace.
CC: Let's circle back to the Okafor deal before we sign off. Quick thoughts on Philadelphia's side of the deal. Does Booker provide any fantasy value going forward?
AK: I think the move to Philly will give Booker a great opportunity to step up in a more relevant role as a basketball player, but I wouldn't hang on to him in fantasy.
Hoops Rumors readers, what are your thoughts on the Okafor trade, the Thunder's collection of talent, and Jordan's value going forward? Take to the comment section below to express your opinion. We look forward to what you have to say!
Also, remember that you can always head to the comment section with your fantasy basketball questions or tweet me at @CW_Crouse.
Statistics are current through Friday morning. Photos courtesy of USA Today Sports Images.