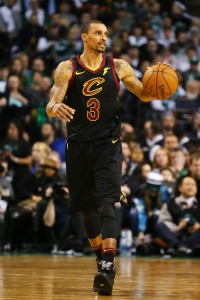 The Cavaliers made a pair of deals at the deadline that added some youth to the NBA's oldest roster while also addressing the team's shooting and defense. The move paid dividends on Sunday when the Cavs went up to Boston and took care of business, blowing out the Celtics by 22 points.
Jordan Clarkson was active off the bench, making seven of his 11 shots en route to 17 points. Rodney Hood and Larry Nance Jr. also played key roles off the pine, with Hood racking up 15 points. George Hill started the game and came away with 12 points. All four additions are useful in fantasy, though if I had to pick one, I'd take Clarkson for the rest of the season. He should lead the second unit and get the most volume from here on out.
Let's take a look at some of the other players who changed addresses at the deadline:
Jae Crowder hit three shots from behind the arc on his way to 15 points for the Jazz on Sunday. Crowder was inconsistent for Cleveland and that hurt his fantasy stock, but it appears he'll see more run in Utah, as he played 29 minutes in his debut (compared to 25.4 minutes per game in Cleveland). The extra playing time and volume should Crowder elevate his value on nights when his shot isn't there.
Isaiah Thomas scored 22 points and dished out six assists in his debut for the Lakers over the weekend. Thomas' stock is up, as he should get much more offensive opportunity in Los Angeles than he did in Cleveland.
During his debut for the Suns, Elfrid Payton looked like someone who should have garnered more than a second-rounder in a trade. The point guard stuffed the stat sheet in 35 minutes against the Nuggets over the weekend, scoring 19 points while adding nine assists and six rebounds. Payton should have free reign in Phoenix for the rest of the season and should be owned in all leagues (available in slightly under 45% on ESPN).
Photo courtesy of USA Today Sports Images.