The Pelicans and Bulls have finalized a trade that sends forward Nikola Mirotic to New Orleans, with both clubs confirming via press releases that the deal is official. ESPN's Adrian Wojnarowski (Twitter link) first reported that the Pelicans and Bulls had reached an agreement in principle.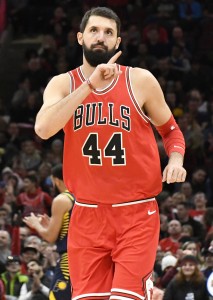 The two teams appeared to be on the verge of a trade earlier this week, but hit a roadblock in the form of Mirotic's $12.5MM team option for 2018/19. The veteran forward, who had veto rights unless that option was exercised, wanted New Orleans to pick it up, but the Pelicans were initially unwilling to do so due to concerns about their ability to retain Mirotic and re-sign DeMarcus Cousins without going into luxury tax territory.
The Pelicans have now guaranteed Mirotic's $12.5MM salary for next season, which clinched the deal, per Wojnarowski (via Twitter). Omer Asik and a future first-round pick are headed to Chicago, as was the case in the initial agreement.
New Orleans needed to include at least one more salary to stay under a hard cap, so Tony Allen heads to Chicago too, according to Shams Charania of Yahoo Sports (Twitter link). Allen will likely be waived by the Bulls, Woj tweets.
The Pelicans will open one extra roster spot by also adding Jameer Nelson to the trade, tweets K.C. Johnson of The Chicago Tribune. Nelson may also be cut, but it probably won't happen immediately, per Johnson, who tweets that the point guard's future is unclear. Paxson said that there is a week left until the trade deadline so the Bulls still have time to decide on waiving players, Johnson tweets.
In order to complete a three-for-one deal, the Bulls will have to open up a roster spot, since they currently only have a single opening. Quincy Pondexter looks like the strongest candidate to be waived.
[RELATED: Bulls to waive Pondexter]
Speaking of Pondexter, according to Johnson (Twitter link), the Bulls will also be returning the Pelicans' own 2018 second-round pick to New Orleans after initially acquiring it in a September trade that landed Pondexter in Chicago. That pick served as an incentive to convince the Pelicans to exercise Mirotic's second-year team option, Johnson notes (via Twitter).
The first-round pick the Bulls are getting in the swap will be the Pelicans' 2018 first-rounder, and it will have "minimal" protections, tweets Wojnarowski. TNT's David Aldridge clarifies (via Twitter) that it'll be top-five protected this year, while Johnson tweets that it'll be top-eight protected in 2019. Finally, Woj adds that there will be a pick-swapping option in the 2021 draft, with the Bulls having the opportunity to swap their second-round pick for the Pelicans' second-rounder.
"The draft asset we acquired was far and away the best thing we had got (in talks)," Bulls executive vice president John Paxson said to reporters, including Johnson. "It's consistent with the direction and plan we talked about this summer."
Mirotic, who has been the subject of trade rumors throughout the 2017/18 campaign, was sidelined with facial injuries to start the season after being punched by teammate Bobby Portis during an altercation in practice. Mirotic's camp reportedly issued an ultimatum in the fall in an effort to get the Bulls to trade either Mirotic or Portis, but the power forwards were willing to bury the hatchet and coexist on the court when Mirotic got healthy.
Since returning to action, Mirotic has enjoyed the most productive year of his NBA career, averaging 16.8 PPG and 6.4 RPG to go along with a .474/.429/.823 shooting line. All of those numbers are career highs. Despite his solid play and the club's improved record, Mirotic was still said to prefer a trade out of Chicago, and was pulled out of action this week as the Bulls attempted to finalize a deal.
As the Bulls explored the market for Mirotic, the Jazz and Pistons were cited most frequently as potential trade partners. However, Detroit landed a bigger fish on Monday, acquiring Blake Griffin from the Clippers, and Utah was reportedly unwilling to include a first-round pick in an offer for the stretch four.
The Bulls, who were said to be seeking a first-rounder for Mirotic all along, will get that pick from the Pelicans, though they'll have to give up a second-rounder and take on an unwanted contract in the process. Asik, a former Bull, is earning about $10.6MM this season, with a guaranteed salary worth $11.29MM in 2018/19. The veteran center has one more year on his deal in 2019/20, but it's only partially guaranteed for $3MM. Allen and Nelson are on expiring minimum salaries, so they won't have any impact on the cap beyond this season.
As for the Pelicans, they're set to fill the lineup hole created when Cousins went down on Friday with a season-ending Achilles injury, and they may not be done adding frontcourt help. New Orleans has been strongly linked to Greg Monroe, who is being bought out by the Suns, and Scott Kushner of The Advocate tweets that the acquisition of Mirotic won't adversely affect the club's pursuit of Monroe. In fact, by clearing a little salary and opening up a pair of roster spots in this deal, adding Monroe may be even more viable for the Pelicans, who have room to add two players on minimum salaries, per ESPN's Bobby Marks (Twitter link) — still, the team may not be able to offer him as significant a role with Mirotic now in the mix.
Photo courtesy of USA Today Sports Images.