While the NBA won't announce this year's award winners until late in June, we're making our picks for the year's major awards now.
The Hoops Rumors writing team has weighed in with our choices below, but we also want to know which players, coaches, and executives you think are most deserving of the hardware this season, so jump into the comments section below to share your thoughts.
We're wrapping things up today with the award for Most Valuable Player. Here are our selections:
Arthur Hill: James Harden (Rockets)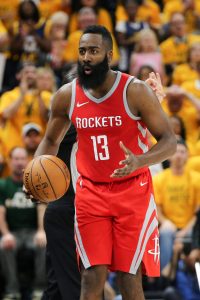 It seems like Harden has had the award wrapped up since training camp as the best player on one of the most dynamic offenses the NBA has ever seen. The numbers speak for themselves with a league-best 30.4 points per game to go with 8.8 assists, but they don't fully tell the story of how good Harden has been. He puts pressure on opposing defenses with each trip down court and creates wide open shots for his teammates. He was also instrumental in bringing Chris Paul to Houston, so Harden is most valuable in every sense of the word.
Dana Gauruder: LeBron James (Cavaliers)
James Harden will almost certainly win the award, in part because he finished second to Russell Westbrook last season, but is there really any doubt who is the league's Most Valuable Player? James ought to be slowing down at this point of his career. Instead, he's more dangerous and durable than ever. The Kyrie Irving trade left James without a true sidekick (sorry Kevin Love), forcing him to shoulder an even heavier burden. He appeared in every game and dominated most of them. How many wins would the Cavs have without him? He's an indestructible marvel.
Luke Adams: James Harden (Rockets)
While his game isn't always pretty to watch, Harden was the NBA's most effective offensive player in 2017/18. He found countless ways to score, repeatedly getting to the free throw line and utilizing a deadly step-back three-point shot that was virtually impossible to guard. And if defenses sent help his way, he made them pay to the tune of 8.8 assists per game.
Harden won't be making an All-Defensive team anytime soon, but he has cut way down on his embarrassing gaffes on that end of the court, and the Rockets don't need him to be an elite defender. With guys like Chris Paul, P.J. Tucker, and Luc Mbah a Moute around to guard opposing teams' top perimeter threats, Harden did fine with the defensive assignments he was given, and even graded out as a solid overall defender, as Ben Alamar of ESPN.com detailed in March. Given his offensive prowess, that's more than enough to make him a worthy MVP winner.
Clark Crum: James Harden (Rockets)
Harden was the best player on the league's best team, often a prerequisite for consideration of this award. Throw in the stats – he led the league in scoring (30.4), was third in assists (8.8), and made 265 three-pointers (9th all time) – and the fact that he led the Rockets to a franchise record in wins (65), and it's hard to see anyone else winning MVP this season, LeBron James included.
Austin Kent: LeBron James (Cavaliers)
While James sits in a class of five or six NBA masterminds putting forth yearly stats lines that previous generations could have only dreamed of, he sits alone among them as the only one doing so while carrying a genuine contender on his back. A lot of people like to get cute with how they interpret the rule but at the end of the day, only one thing matters: if this is what James is capable of surrounded by Kevin Love and a handful of beet farmers, imagine what he'd be able to do running the floor with Chris Paul in Houston? Or put differently, how much better a team like the Thunder would be with James on board instead of Russell Westbrook?
Chris Crouse: James Harden (Rockets)
LeBron James is still the best player in the world and after Cleveland's trade deadline deals, he played like it. He shot 53.9% from the field and nearly averaged a triple double for a two-and-a-half-month stretch, tallying 29.5 points, 9.5 assists and 9.7 rebounds per game since GM Koby Altman brought in a group of young, spry athletes around him. Does that spectacular run of 28 games help to overshadow the month leading up to the trades where he was consistency found stewing on the court, taking a passive approach to the game, and failing to bring inspiration to his team? I'm not sure.
For the first time in his career, James played 82 games, making him one of four players this season (along with Bradley Beal, Karl-Anthony Towns, and Khris Middleton) to average over 20 points per game while not missing a single contest. Harden played in just 72 games because of injury and some rest. The Beard also played in several games that were rendered meaningless for his team, while James' club had to fight through the end of the regular season to try and secure a top-four seed. Yet. if Cleveland didn't falter earlier in the season with James' hand-pick crew, maybe the Land isn't sweating over seeding during the last week of the season and maybe we're talking about James as the best player on a top-two team in the East rather than one that came within a two-game losing streak of not even getting home court advantage in the first round.
Harden led his team to the best record in the league while facing an arguably tougher slate out West. According to Win Shares, he's responsible for nearly 1.5 more victories than James (15.4 to 14.0) despite suiting up for 10 fewer contests. He scored just 60 fewer points on the season in 475 fewer minutes than LBJ did and he bested The King in player efficiency rating. It's a close race, but Harden gets the nod for me.
Who is your pick for Most Valuable Player? Share your choices and your thoughts in the comment section below!
Previously:
Photo courtesy of USA Today Sports Images.