JULY 7: Baynes has formally signed his new contract with the Celtics, according to the NBA's official transactions log.
JUNE 30: The Celtics have reached an agreement with free agent center Aron Baynes, reports Shams Charania of Yahoo Sports (Twitter link). According to Charania, Baynes will re-sign with Boston on a two-year, $11MM contract. The second year will be a player option, Charania adds (via Twitter).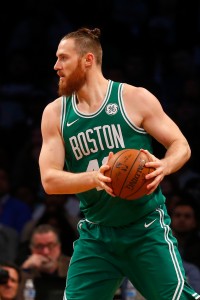 A. Sherrod Blakely of NBC Sports Boston first reported several days ago that Baynes would likely stick with the Celtics as an unrestricted free agent.
Baynes, who was playing on a one-year, $4.33MM deal in 2017/18, averaged 6.0 PPG and 5.4 RPG in 81 regular season games (18.3 MPG) for the Celtics. The 31-year-old was also a key contributor in the postseason, flashing a newfound outside shot — after having made just four three-pointers over the course of his six NBA seasons, Baynes knocked down 11 of 23 three-point attempts in the playoffs.
Having initially signed Baynes during the 2017 offseason, the Celtics hold his Non-Bird rights this summer. Those rights would allow the team to offer a starting salary of up to $5,193,600, which is likely the route that Boston is taking. Using Baynes' Non-Bird rights would allow the C's to retain their mid-level exception for another move.
Baynes was the No. 41 free agent on our list of 2018's top 50 free agents.
Photo courtesy of USA Today Sports Images.