Knicks center Kyle O'Quinn has declined his player option for the 2018/19 season, reports Adrian Wojnarowski of ESPN. O'Quinn will become an unrestricted free agent this summer.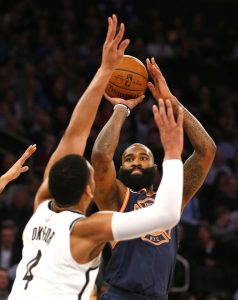 Quinn, 28, enjoyed a career year with the Knicks during the 2017/18 season, averaging a career-high 7.1 points and 6.1 rebounds in 18.0 minutes per game with a .598/..235/.772 shooting line.
Unlike the Hawks' Dewayne Dedmon, who was reported to have picked up his player option at nearly the same time that news broke on O'Quinn, the Knicks' big man was only scheduled to make $4,256,250 next season, nearly $3MM less than what Dedmon will make.
As noted by Bobby Marks of ESPN, O'Quinn's decision to decline his option likely won't have any impact on the Knicks' 2018/19 cap situation unless Enes Kanter also decides to decline his $18.62MM option, as the Knicks would likely only have the ability to operate under the cap if Kanter becomes a free agent.
Photo courtesy of USA Today Sports Images.