9:21pm: Marc Stein of The New York Times has the protection details on the 2019 first-round pick going to Atlanta in the deal. According to Stein (via Twitter), it will be top-five protected in 2019 and 2020, top-three protected in 2021 and 2022, and fully unprotected in 2023.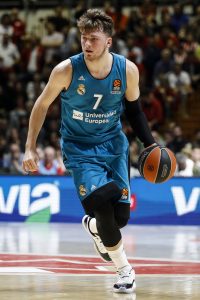 6:47pm: The Mavericks and Hawks agreed to a blockbuster trade involving the No. 3 pick that allowed Dallas to draft Luka Doncic.
ESPN's Adrian Wojnarowski reports (via Twitter) that the Hawks will acquire a 2019 first-round pick in the trade, while Atlanta took Trae Young at No. 5. No veteran players are involved in the deal, Woj adds (via Twitter).
Previous versions of the trade had Kent Bazemore going to Dallas and Wesley Matthews to Atlanta, but the Hawks were reluctant to add Matthews to a young, rebuilding team. They opted for a simple swap of picks, with some light protections on the future first-rounder. Atlanta had been hoping to free up some cap room by finding a taker for Bazemore, who is owed more than $18MM next season and has a player option worth nearly $19.3MM in 2019/20.
The teams were close to a trade around 5:00pm ET, tweets ESPN's Jonathan Givony, but fell apart until the Mavs agree to include the future pick. The pick is scheduled to transfer next season, tweets Shams Charania of Yahoo Sports and will be top-five protected (Twitter link).
A source from the Mavericks, who described the protections as minimal to ESPN's Tim MacMahon, said, "We hope it conveys next year." (Twitter link).
Arthur Hill contributed to this post.