JULY 9: The Pelicans have officially signed Randle, per the NBA's transactions log. The team's new deal with Ian Clark has also been finalized, according to the league's list of official transactions.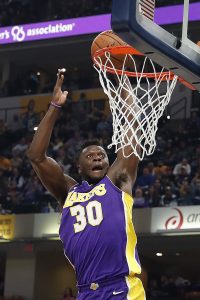 JULY 2: The Pelicans have reached an agreement with Lakers free agent forward Julius Randle on a two-year, $18MM contract, Adrian Wojnarowski of ESPN tweets. The second year will be a player option, Wojnarowski adds.
The acquisition of Randle would strongly suggest that the Pelicans are not confident in re-signing DeMarcus Cousins. At the very least, adding Randle would give them some insurance if Cousins signs elsewhere. Not only does New Orleans already have superstar Anthony Davis up front but also Nikola Mirotic, who was acquired from the Bulls and jumped into the starting lineup with Cousins sidelined by a season-ending Achilles injury.
Davis was instrumental in recruiting Randle to New Orleans, according to another Wojnarowski tweet. Randle had his rights renounced by Los Angeles per his request earlier on Monday, making him an unrestricted free agent. The Pelicans ironically lost free agent point guard Rajon Rondo to the Lakers shortly before the news of Randle's agreement broke.
Randle's opt-out will give him the opportunity to explore the free agent market once again next summer. Randle, a former seventh overall pick, averaged 16.1 PPG, 8.0 RPG, 2.6 APG, and a .558 FG% in 26.7 minutes per game last season.
The Pelicans, meanwhile, may be poised to replace Cousins with Randle and Rondo with Elfrid Payton, who reached an agreement with the team on Sunday. The terms of the two deals strongly suggest that New Orleans will use its mid-level exception to sign Randle and its bi-annual exception to bring Payton aboard.
A two-year signing using the non-taxpayer mid-level exception would be worth about $17.7MM, which matches up with Randle's reported $18MM agreement. The bi-annual exception is worth $3.382MM and would accommodate Payton's reported $2.7MM salary.
Using either exception would hard-cap the Pelicans at $129.82MM for the 2018/19 league year, so while they could go over the cap to re-sign Cousins, their team salary would have to stay below that $129.82MM threshold. Taking into account Randle's and Payton's reported agreements, the Pelicans are at approximately $104MM in guaranteed salary for nine players. That total doesn't include Cousins or non-guaranteed players like Darius Miller ($2.2MM).
Photo courtesy of USA Today Sports Images.