JULY 9: The Pacers have published a tweet welcoming O'Quinn to the team, signaling that the signing is now official.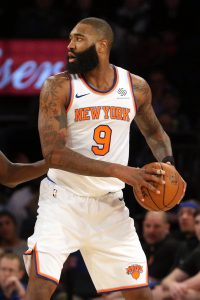 JULY 6: The Pacers have reached a contract agreement with free agent center Kyle O'Quinn, according to Shams Charania of Yahoo Sports, who reports (via Twitter) that O'Quinn will sign a one-year, $4.5MM deal with Indiana.
O'Quinn, 28, enjoyed the most productive season of his career in 2017/18, establishing new career highs in PPG (7.1), RPG (6.1), FG% (.582), and several other categories in 77 games (18.0 MPG) for the Knicks. Coming off a successful year in New York, O'Quinn was one of the few veterans in the NBA who turned down a player option for 2018/19.
That player option was worth approximately $4.26MM, so O'Quinn appears poised to exceed that salary on his new deal with the Pacers. Based on the reported terms, it appears that Indiana will use its room exception, worth $4.449MM, to finalize its deal with the veteran center after using up the rest of its cap space.
The Pacers have been busy this week, striking a three-year, $22MM deal with sharpshooting forward Doug McDermott early in free agency, then agreeing to terms on a one-year, $12MM pact for Tyreke Evans. Those two deals are expected to eat up just about all of Indiana's cap space, but even after using their room exception on O'Quinn, the club will able to add minimum-salary players.
Before reaching an agreement with the Pacers, O'Quinn reportedly met with the Clippers and drew interest from the Sixers and Pelicans.
In Indiana, O'Quinn will join a talented and versatile frontcourt that features Myles Turner, Domantas Sabonis, Thaddeus Young, and T.J. Leaf. With Al Jefferson and Trevor Booker no longer in the mix, there should be a regular rotation role available for O'Quinn.
Photo courtesy of USA Today Sports Images.