JULY 25: The Sixers have officially signed Bolden, the team announced today in a press release.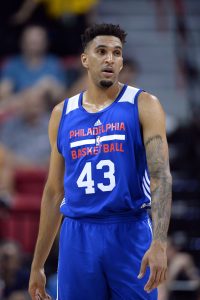 "We have been following Jonah Bolden for a while and are very excited to bring him into our program as a young, up-and-coming prospect," head coach Brett Brown said in a statement. "He experienced positive growth and development last season at Maccabi Tel Aviv, a team led by Neven Spahija, who is a friend of our program and an excellent coach. Jonah's style of play is that of a modern-day player and we're thrilled to grow our team with him."
JULY 20: The Sixers have reached a contract agreement with 2017 second-round pick Jonah Bolden, and will sign him to a four-year, $7MM deal, tweets Shams Charania of Yahoo Sports. The final two years of Bolden's contract will be non-guaranteed, reports Derek Bodner of The Athletic (Twitter link).
Before finalizing an agreement with Bolden, the 76ers reached a deal to trade Richaun Holmes to the Suns, clearing a path for Bolden in more ways than one.
Bolden will replace Holmes as the 15th man on Philadelphia's roster, and the trade of Holmes opened up the cap room necessary for the Sixers to complete Bolden's signing. Without that cap space, the team could only have offered up to two years using either the room exception or the minimum salary exception.
The 36th overall pick in 2017, Bolden remained overseas for one more year, spending the 2017/18 campaign with Maccabi Tel Aviv in Israel. He averaged 6.9 PPG and 5.5 RPG in 29 EuroLeague games, along with 7.6 PPG and 6.6 RPG in 26 Israeli League contests.
Despite playing international ball last year as a draft-and-stash prospect, Bolden has long been expected to join the Sixers for the 2018/19 season. Even after the dismissal of president of basketball operations Bryan Colangelo, who drafted Bolden, the 22-year-old said earlier this month that he planned on joining the NBA club.
Photo courtesy of USA Today Sports Images.