7:09pm: It's official, according to a Sixers press release.
11:29am: The Suns are sending $1MM to Philadelphia in the trade, tweets Scott Bordow of The Arizona Republic.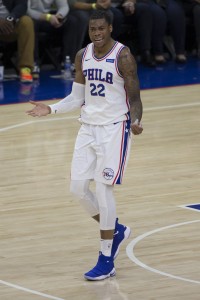 10:55am: The Sixers have agreed to a trade with the Suns that will send Richaun Holmes to Phoenix, reports Shams Charania of Yahoo Sports (Twitter link). Philadelphia will receive cash considerations in return for Holmes, Charania adds (via Twitter).
Holmes, a second-round pick in the 2015 draft, has been a rotation player for the Sixers for the last three seasons. However, after averaging 20.9 minutes per contest and starting 17 games in 2016/17, the 24-year-old had his role cut back last season, as he played 15.5 MPG and started just two of his 48 games.
With Joel Embiid, Amir Johnson, and Mike Muscala in the mix at center for the Sixers in 2018/19, Holmes was unlikely to play a major role for the team. Instead, he'll join a prospect-heavy Suns frontcourt that features Deandre Ayton, Marquese Chriss, Dragan Bender, and veteran Tyson Chandler.
While the Suns' acquisition of Holmes isn't exactly a blockbuster, it has some interesting – albeit minor – cap ramifications. Phoenix wouldn't have had the cap room to acquire Holmes without sending out any salary if not for the Jared Dudley/Darrell Arthur swap the club agreed to earlier today. Now, Holmes can slot into the team's remaining cap space and its 15th roster spot.
As for the 76ers, there were reports in the wake of their three-team trade agreement on Thursday that the deal wouldn't be completed right away because Philadelphia was working on another move. A Kyle Korver/Jerryd Bayless trade rumor hinted that the Sixers were looking to open up a little extra cap room themselves — they'll do just that by moving Holmes' $1.6MM salary, and now have the space to sign draft-and-stash prospect Jonah Bolden to a four-year contract using cap room.
Without cap space, the Sixers wouldn't have been able to offer Bolden – who will replace Holmes in the frontcourt – more than two years.
Photo courtesy of USA Today Sports Images.