A three-week saga that saw Dwight Howard traded by one team, bought out by a second team, and signed by a third team has come to an end. According to the NBA's official transactions log, Howard formally signed his new contract with the Wizards on Wednesday.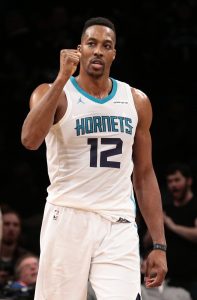 Howard, who had initially been owed nearly $24MM as he entered a contract year, was traded from the Hornets to the Nets in a deal that saw Charlotte acquire Timofey Mozgov, a pair of second-round picks, and $5MM in cash. While that trade was agreed upon before June's draft, it couldn't be finalized until July for salary cap reasons.
The former No. 1 overall pick was subsequently bought out by the Nets, giving back a reported $5MM to the team in that agreement. After clearing waivers earlier this week, Howard was able to officially finalize his new contract agreement with the Wizards, a two-year deal that will use the taxpayer mid-level exception.
As our chart of this year's mid-level values shows, the contract will pay him $5,337,000 in 2018/19, with a 2019/20 player option worth $5,603,850.
Howard projects to slot in as the Wizards' starting center after the team traded former starter Marcin Gortat to the Clippers in a June deal. Based on Washington's current roster, Howard would be backed up by Ian Mahinmi, Jason Smith, and Thomas Bryant at the center position.
While Howard has seemingly worn out his welcome at his last several NBA stops, the 32-year-old remains a productive NBA center and should provide the Wizards with a big man who can finish at the rim, grab double-digit rebounds, and block some shots. Last season in Charlotte, Howard averaged 16.6 PPG, 12.5 RPG, and 1.6 BPG in 81 starts (30.4 MPG).
Having added Howard, Austin Rivers, Jeff Green, and rookie Troy Brown so far this offseason, the Wizards are up to 14 players with a team salary approaching $135MM. Barring cost-cutting moves, Washington figures to be a taxpayer again in 2018/19. If the team wants to fill out the last spot on its roster, it will only have the minimum salary exception available to do so.
Photo courtesy of USA Today Sports Images.