The Clippers have matched the Pelicans' offer sheet for guard Tyrone Wallace, according to a team press release.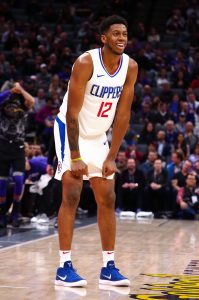 "We identified Tyrone as a versatile, competitive and tough-minded player who adds to the organizational culture," Clippers president of basketball operations Lawrence Frank said in a statement. "Ty worked hard with our staff at Agua Caliente and Los Angeles, and his growth has been a reflection of his commitment to getting better. Together with our team's player development program, Ty demonstrated impressive improvement and contributed meaningfully to our team last season. We are excited to welcome Ty back to the Clippers."
The Pelicans signed Wallace on Monday to an offer sheet worth the veteran's minimum, approximately $2.9MM over two years. The Clippers had two days once Wallace signed the offer sheet to decide whether to match it or let him go.
It was generally assumed the Clippers wouldn't match the offer sheet for the 6'5" restricted free agent, who played last season on a two-way deal. With Wallace back in the mix, the Clips now have 15 players with guaranteed deals, plus non-guaranteed contracts for Wallace and Patrick Beverley, so they'll have to trade or release a couple of those players by the end of the preseason.
Still, as ESPN cap expert Bobby Marks points out (via Twitter), even though retaining Wallace doesn't help the Clippers clear their roster logjam, there's little risk involved in bringing him back for the time being. His new deal features a partial guarantee of $300K (as of September 12), but won't become fully guaranteed until the new year, and the second season is fully non-guaranteed, with no trigger dates.
The Clippers will now have the opportunity to evaluate Wallace and the rest of their roster in training camp, and will only be out $300K if they decide that the second-year guard isn't part of their plans after all. That wouldn't be a terrible outcome for Wallace either, as he'd have the opportunity to reach unrestricted free agency after having collected $300K for a few weeks of work.
With 17 players now vying for 15 spots in L.A., Jawun Evans' roster spot becomes even more precarious. The 6'0″ Evans has a guaranteed contract, but it's only worth the minimum and doesn't feature any guaranteed money beyond 2018/19. The Clippers also have numerous point guard options, including Patrick Beverley, Avery Bradley, Milos Teodosic, and Shai Gilgeous-Alexander.
Photo courtesy of USA Today Sports Images.