The Suns have officially filled the 15th spot on their regular season roster by signing Jamal Crawford, according to NBA.com's transactions log. The team created a roster opening on Tuesday by waiving Davon Reed.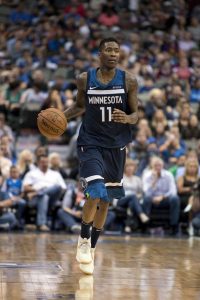 Crawford, a three-time Sixth Man of the Year winner, reached an agreement with the Suns on Monday and has now signed a one-year, minimum salary contract with the club.
Per the NBA's log of transactions, Crawford's signing was completed on Tuesday, the first day of the regular season. As such, he should receive a full-season minimum salary rather than a prorated portion of the minimum. He'll earn $2,393,887 and will count for $1,512,601 against Phoenix's cap.
Although several teams – including the Warriors, Celtics, Sixers, and Lakers – reportedly showed interest in Crawford over the course of the offseason, he had trouble finding a new NBA home after averaging 10.3 PPG on .415/.331/.903 shooting for the Timberwolves in 2017/18. The 38-year-old could have exercised a $4.5MM player option in June to stay in Minnesota, Crawford didn't love the role he played with the Wolves and sought a better fit, turning down that option and hitting the open market.
Crawford's new team, the Suns, likely envisions the veteran in a ball-handling role. Besides Isaiah Canaan, Phoenix doesn't have another experienced point guard on the roster — rookies De'Anthony Melton and Elie Okobo will provide depth at that spot after the team waived Shaquille Harrison this week.
[RELATED: Sixers Turned Down Suns' Trade Offer For T.J. McConnell]
Besides Reed and Harrison, the Suns also cut Darrell Arthur, clearing the way for Crawford, Richaun Holmes, and Canaan to make the team. Holmes and Canaan both have non-guaranteed deals.
Crawford isn't expected to be active for the Suns' home opener against Dallas tonight, head coach Igor Kokoskov said today (Twitter link via Gina Mizell of The Athletic).