In case you missed any of this past week's biggest stories from around the NBA, we've got you covered with our Week in Review. Listed below are some of the most noteworthy stories from the last seven days.
Warriors' All-Star teammates Draymond Green and Kevin Durant were involved in an emotional end-of-game confrontation earlier this week after Green grabbed a defensive rebound against the Clippers, dribbled up the floor, and committed a turnover while Durant appeared to be calling for the ball. The team ended up losing to L.A. in overtime, with the confrontation spilling over and escalating into the locker room. Green was ultimately suspended for his actions, with reports indicating he took it too far when he began to call Durant a b***h and question his loyalty and impending free agency. Both players seem to indicate that the debacle is behind them, but sources worry that Durant's well-documented sensitivity may cause this issue to surface again sometime in the future.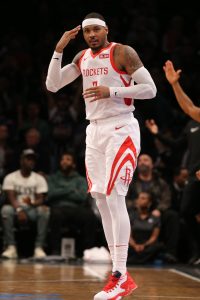 The Rockets are moving on from veteran forward Carmelo Anthony, but will not yet waive or trade the former All-Star, instead giving Anthony's reps the opportunity to explore possible teams for the 12-time NBA All-Star to join. Anthony joined the Rockets with hopes of providing frontcourt depth on a contending roster, but his role gradually changed after the first two weeks of the season and the team has had increased success since Anthony began sitting out with what the team called an illness.
Nets swingman Caris LeVert suffered what appeared to be a devastating right leg injury in Monday's loss to the T-Wolves. However, tests revealed that LeVert was able to avoid any broken bones or major ligament damage, and he is expected to return to the court this season after being diagnosed with a subtalar dislocation of the right foot.
The Nuggets have officially hired WNBA star Sue Bird to their front office staff, with Bird now serving as a Basketball Operation Associate in Denver. Bird has familiarity with several people within the Nuggets' organization, including head coach Mike Malone, after the two got to know each other while Bird was rehabbing an injury in New York and Malone was an assistant coach for the Knicks.
Here are 6 more notable NBA headlines from the last week: