Hoops Rumors wants to wish everyone a Happy Valentine's day and acknowledge those who continue to love the Knicks and stand by the team through all the hardship, drama, and overall disappointment.
After a divorce with Kristaps Porzingis, the Knicks have a path to add two max-level free agents this summer. Better times could be on the horizon for the New York faithful in 2019.
Rumors that Anthony Davis wouldn't mind the Knicks as a long-term partner are encouraging. Kyrie Irving potentially breaking off his engagement with the Celtics provides hope. The Kevin Durant speculation and the potential to land the No. 1 overall pick both stand out as ways to spice up your relationship while slogging through the formality that is the remainder of the regular season (our Reverse Standings show every team's chances at landing the top pick).
From a fantasy basketball standpoint, the Knicks still have plenty to love this season. Dennis Smith Jr. had a rocky first game upon joining the team, but since then, he has become a reliable asset. He's averaging 18.4 points per game in 32.2 minutes over his past five starts. He's dishing out nearly six assists per game, and only six players have more steals than the second-year point guard over that span.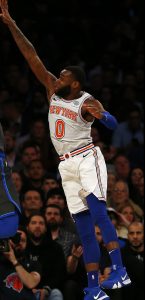 Behind him at the moment is Kadeem Allen. Over the past three contests, Allen has averaged 17.3 points, 5.3 assists, 3.0 rebounds, and 2.0 steals in 27.7 minutes per game. Roughly 70% of his minutes have come without DSJ on the floor, giving him ample opportunity to post fantasy-friendly numbers.
Emmanuel Mudiay, who is sidelined with a shoulder strain, is expected to return after the All-Star break, so Allen's fantasy relevance may only be a short-term fling. However, tonight against the Hawks—the most fantasy-friendly matchup for opposing point guards, per Hashtag Basketball—Allen will have backup duties all to himself and is a great low-cost DFS tournament option, coming in at nearly half the price as Smith on FanDuel.
Here's more on the teams playing in tonight's games plus some items to keep an eye on post-All-Star break:
Mitchell Robinson accumulated 14 points and 13 rebounds in the Knicks' loss to the Sixers and he should be owned in all season-long leagues going forward. Over his past dozen games, Robinson is averaging 9.8 points, 6.6 rebounds and nearly three blocks per game while making 76.9% of his looks. He saw just 20.0 minutes per contest during that stretch but should expect to see more minutes than DeAndre Jordan going forward, as was the case against Philadelphia on Wednesday.
Damyean Dotson should earn starter minutes against the Hawks with Mario Hezonja doubtful for the contest. Dotson played 31 minutes on Wednesday vs. the 76ers, scoring 16 points while adding two rebounds and three assists.
Will Thunder point guard Russell Westbrook record his 11th consecutive triple-double against the Pelicans tonight? New Orleans has given up the seventh-most points and fifth-most assists to opposing point guards this season, according to Hashtag Basketball. The Pelicans are in the middle of the pack in allowing rebounds to opposing guards, but something tells me Westbrook will be alright in that area with Jerami Grant sitting out (Dennis Schroder is also expected to miss the game).
Heat point guard Goran Dragic is expected to return after the All-Star break, with the Miami Herald reporting that he is "making a lot of progress." Dragic's return will push Justise Winslow back into the second unit and create a logjam for Dion Waiters and Dwyane Wade.
Don't expect Markelle Fultz to be ready anytime soon. The newest member of the Magic, who is still without an official timeline for his return, took a subtle shot at his former employer after his breakup with the Sixers. "It really excites me to have coaches that are going to push you and not just tell you what you want to hear," Fultz said (via Greg Joyce of The New York Post).
Fantasy questions? Take to the comment section below or tweet me at @CW_Crouse.
Missed an earlier edition of Fantasy Hoops? Check out the entire series here.
Photo courtesy of USA Today Sports Images.