12:02pm: The Sixers and Clippers have both issued press releases officially announcing the trade.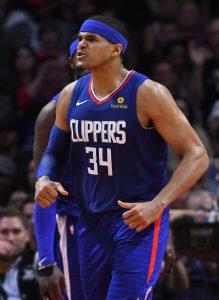 "We are in the unique position to contend now and we think this trade positions us well for the postseason," Sixers GM Elton Brand said in a statement. "Tobias is one of the best three-point shooters in the NBA and possesses an innate ability to impact the game on both ends of the floor, while Boban and Mike provide valuable skillsets, size and depth to our team. All three players bring high character to our locker room and we are excited about their fit alongside Joel, Ben, Jimmy and our entire roster."
7:10am: The Sixers and Clippers have agreed on a six-player deal that will send Tobias Harris to Philadelphia, Adrian Wojnarowski of ESPN writes. In exchange, Los Angeles will bring back rookie Landry Shamet, two first-round picks and a number of other resources. Shams Charania of The Athletic first reported (via Twitter) that the two sides had reached a deal.
In total, Philadelphia will acquire Harris, Boban Marjanovic, and Mike Scott while Los Angeles adds Shamet, Wilson Chandler, Mike Muscala, Philadelphia's own 2020 first-rounder, Miami's unprotected 2021 first-rounder, and a pair of future second-rounders. The two second-round picks will be the Pistons' 2021 and 2023 selections, per Rich Hofmann of The Athletic (Twitter link).
As for the Sixers' 2020 first-round pick, ESPN's Ramona Shelburne reports (via Twitter) that it will be lottery protected for three seasons, and would turn into a pair of second-round picks for 2023 and 2024 if it hasn't conveyed after those three years.
It's a massive swing by the 76ers, who appear to be going all-in on their current group after years of rebuilding. In Harris, they acquire a 26-year-old forward who is having the best year of his career. In 55 games for the Clippers, he averaged 20.9 PPG and 7.9 RPG with a shooting line of .496/.434/.877. All of those numbers are career highs.
Harris will join a starting lineup that already features Joel Embiid, Jimmy Butler, Ben Simmons, and J.J. Redick, giving the Sixers arguably the most talented starting five in the East. Meanwhile, Scott and Marjanovic will help replace some of the frontcourt depth Philadelphia has sacrificed by trading Chandler, Muscala, Dario Saric, and Robert Covington this season.
Harris is on an expiring contract and will become an unrestricted free agent this summer, but the Sixers intend to be "aggressive" in re-signing him to a new deal, sources tell Wojnarowski. The plan in Philadelphia is to secure the team's Big 4 of Embiid, Butler, Simmons, and Harris long-term, regardless of luxury tax concerns, according to ESPN's Zach Lowe (Twitter link).
Of course, as Lowe observes in a follow-up tweet, having both Butler's and Harris' Bird Rights in free agency this offseason will give the Sixers some leverage negotiating with each player. If the franchise ultimately does re-sign both players and gives Simmons a maximum-salary extension, the Big 4 would likely cost approximately $120MM by the 2020/21 season, Bobby Marks of ESPN observes.
As for the Clippers' side of the deal, while Harris had been great for the team since coming over in last year's Blake Griffin blockbuster, he isn't at the top of the organization's wish list for 2019 free agency. As such, the club was comfortable giving up his Bird Rights in exchange for long-term assets.
By acquiring Shamet and two more first-round picks, including an unprotected 2021 Heat selection that could end up being pretty valuable, the Clippers have added more strong trade assets that could be used in pursuit of a star down the road.
Although the Clippers were one of the clubs on Anthony Davis' reported four-team wish list, L.A.'s front office didn't make this trade with the primary objective to go after Davis, league sources tell Wojnarowski. Still, if the Clips pursue a player like AD or another star this week or in the offseason, their new assets will probably be more intriguing to a rebuilding team than Harris would have been.
Harris ($14.8MM), Marjanovic ($7MM), and Scott ($4.32MM) are all on expiring contracts, as are Chandler ($12.8MM) and Muscala ($5MM). However, the Clippers will actually add a little money to their books for 2019/20 by taking on Shamet, who is on his rookie contract and will earn just under $2MM in 2019/20.
Even after that modest addition to their cap, the Clippers will be in a good position to create the space necessary for at least one maximum-salary player in July. According to Marks, the Clippers should have about $37MM in room, and could increase that number to $49MM by waiving Avery Bradley. If they could find a taker for Danilo Gallinari, that figure would further increase to $70.7MM, which should be enough for two max slots.
The ramifications of this blockbuster deal on both conferences could be significant. In the West, the Clippers currently hold the No. 8 seed at 30-25, but the Kings and Lakers remain in hot pursuit of a playoff spot. Without Harris, the Clips' playoff chances will dip, which in turn will reduce their odds of hanging onto their 2019 first-round pick — that selection is owed to the Celtics, but is lottery protected.
Meanwhile, in the Eastern Conference, there's a clear group of four teams at the top of the postseason race, with the Sixers joining the Bucks, Raptors, and Celtics. It will be interesting to see whether any of those other contenders respond with moves of their own before Thursday's deadline.
In his analysis of the trade, ESPN's Tim Bontemps notes that Milwaukee may have already made its most significant move, acquiring George Hill earlier in the season, and Boston may save its assets for an offseason run at Davis. That leaves the Raptors as the most intriguing wild card over the next couple days. Toronto has been aggressive on several fronts, tweets Chris Mannix of SI.com.
Finally, one more cap-related note on this swap: The Clippers have multiple options for how to structure the deal, but one approach would see them create a $9.8MM traded player exception. Philadelphia won't be able to generate a new TPE in the trade.
Austin Kent contributed to this story.
Photo courtesy of USA Today Sports Images.