The Clippers have used an open roster spot and a traded player exception to claim shooting guard Rodney McGruder off waivers from the Heat, reports Shams Charania of The Athletic (Twitter link).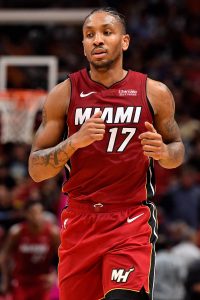 Because he was released after March 1, McGruder won't be eligible to participate in the postseason for Los Angeles. However, the Clippers will assume control of his Early Bird rights and will have the ability to make him a restricted free agent this summer by issuing him a qualifying offer. That QO would be worth just over $3MM, since McGruder met the starter criteria this season.
McGruder, 27, had a solid season in Miami, averaging 7.6 PPG, 3.7 RPG, and 1.7 APG with a .403/.351/.722 as a regular part of the team's rotation over 66 games (23.5 MPG). However, with the Heat's playoff chances dwindling, they decided to prioritize getting out of the tax.
Since McGruder was claimed off waivers, Miami won't be on the hook for his $1,544,951 cap hit, allowing the club to duck below the tax line. As ESPN's Bobby Marks tweets, the move will save the Heat approximately $5.2MM, since they'll no longer have a $2.1MM tax bill and will instead be in line for a $3.1MM share of other teams' tax payments. It should also help the organization avoid repeater-tax penalties down the road.
Although McGruder is earning the minimum salary this season, his contract was a three-year pact, meaning it wasn't eligible to be claimed using the minimum salary exception, which only accommodates one- or two-year deals. As such, the Clippers had to use a traded player exception to place their claim. The team had two exceptions that could have worked, but likely used the $2,760,095 TPE from last August's Sam Dekker deal, since it's worth less than – and will expire before – the $9.8MM TPE created in February's Tobias Harris blockbuster.
The Clippers are in position to make McGruder part of their future, but could just as easily let him go during the offseason if retaining him would compromise their ability to land a top free agent target. Still, his modest cap hold – which would be the amount of his qualifying offer if the Clips extend one – should give the club some flexibility.
Photo courtesy of USA Today Sports Images.