The Thunder's 2017 trade for Paul George paid off in a big way during the 2018 offseason when they convinced the All-Star forward to sign a long-term deal with the franchise. However, despite a terrific season from George, Oklahoma City was eliminated from the playoffs in the first round for a third consecutive year, raising questions about the long-term ceiling of the current core.
Here's where things currently stand for the Thunder financially, as we continue our Offseason Salary Cap Digest series for 2019: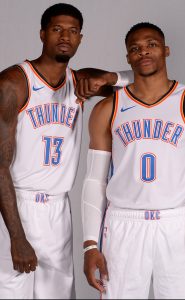 Guaranteed Salary
Russell Westbrook ($38,506,482)
Paul George ($33,005,556)
Steven Adams ($25,842,697)
Dennis Schroder ($15,500,000)
Andre Roberson ($10,740,740)
Jerami Grant ($9,346,153)
Patrick Patterson ($5,711,200): Exercised player option
Terrance Ferguson ($2,475,840)
Hamidou Diallo ($1,416,852)
Kyle Singler ($999,200) — Waived via stretch provision
Total: $143,544,720

Player Options
Team Options
Non-Guaranteed Salary
Restricted Free Agents
Unrestricted Free Agents / Other Cap Holds
No. 21 overall pick ($2,475,720)
Raymond Felton ($1,618,486): Early Bird rights
Markieff Morris ($1,618,486): Non-Bird rights
Norris Cole ($1,618,486): Non-Bird rights 4
Nick Collison ($1,618,486): Bird rights 4
Total: $10,109,464
Projected Salary Cap: $109,000,000
Projected Tax Line: $132,000,000
Offseason Cap Outlook

Realistic cap room projection: $0
After paying the highest luxury tax bill in the NBA in 2018/19, the Thunder appear poised to blow past the tax threshold again in 2019/20. It's possible they'll find a way to sneak below that line, but there's no chance they'll have cap room and little chance they'll gain access to the full mid-level exception and bi-annual exception.

Cap Exceptions Available
Trade exception: $10,883,189 (expires 7/25/19)
Trade exception: $1,544,951 (expires 2/3/20)
Taxpayer mid-level exception: $5,711,000 5
Footnotes
Nader's salary becomes fully guaranteed after July 5.
Burton's salary becomes partially guaranteed ($1MM) after August 1.
The salaries for two-way players don't count against a team's cap, but their cap holds do during the offseason.
Cole's and Collison's cap holds remain on the Thunder's books because they haven't been renounced after going unsigned in previous offseasons. They can't be used in a sign-and-trade deal.
This is a projected value. If the Thunder were to reduce salary and stay out of tax territory, they could instead have access to the full mid-level exception ($9,246,000) and the bi-annual exception ($3,619,000).
Note: Minimum-salary and rookie-scale cap holds are estimates based on salary cap projections and could increase or decrease depending on where the cap lands.
Salary information from Basketball Insiders and RealGM was used in the creation of this post. Photo courtesy of USA Today Sports Images.