After a tumultuous offseason that included the departures of three longtime core players – Kawhi Leonard, Manu Ginobili, and Tony Parker – the revamped Spurs did what they always do and earned a playoff spot for the 22nd consecutive year. The current roster may not have the same upside as the title-winning squads led by Tim Duncan, but with Derrick White on the rise and Dejounte Murray on the mend, there's still room for San Antonio to improve.
Here's where things currently stand for the Spurs financially, as we continue our Offseason Salary Cap Digest series for 2019: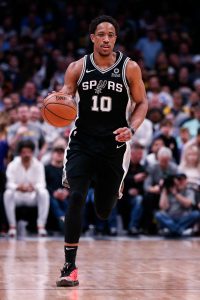 Guaranteed Salary
DeMar DeRozan ($27,739,975)
LaMarcus Aldridge ($26,000,000)
Patty Mills ($12,428,571)
Davis Bertans ($7,000,000)
Marco Belinelli ($5,846,154)
Pau Gasol ($5,074,856) — Waived
Jakob Poeltl ($3,754,886)
Bryn Forbes ($2,875,000)
Lonnie Walker ($2,760,480)
Dejounte Murray ($2,321,735)
Derrick White ($1,948,080)
Chimezie Metu ($1,416,852)
Total: $99,166,589

Player Options
Team Options
Non-Guaranteed Salary
Restricted Free Agents
Unrestricted Free Agents / Other Cap Holds
Rudy Gay ($13,113,360): Early Bird rights
Dante Cunningham ($2,984,400): Non-Bird rights
No. 19 overall pick ($2,686,440)
Nikola Milutinov ($2,033,160) 1
No. 29 overall pick ($1,947,960)
Joffrey Lauvergne ($1,618,486): Non-Bird rights 2
Donatas Motiejunas ($1,618,486): Non-Bird rights
Quincy Pondexter ($1,618,486): Non-Bird rights
Matt Costello ($1,443,842): Non-Bird rights 2
Darrun Hilliard ($1,443,842): Non-Bird rights 2
Ben Moore ($1,443,842): Non-Bird rights
Total: $31,952,304
Projected Salary Cap: $109,000,000
Projected Tax Line: $132,000,000
Offseason Cap Outlook

Realistic cap room projection: $0

Barring a cost-cutting move or two, the Spurs project to have $103.8MM on their books for 11 guaranteed salaries plus two first-round picks. Working as an over-the-cap team and retaining their mid-level and bi-annual exceptions makes more sense than renouncing those exceptions for a mere $5.2MM in potential cap room. If they want to re-sign Gay, going under the cap becomes even less realistic.
Cap Exceptions Available
Mid-level exception: $9,246,000 3
Footnotes
Milutinov was the 26th overall pick in the 2015 draft. His cap hold (the equivalent to the 26th overall pick in the 2019 draft) will remain on the Spurs' books unless the team receives permission to remove it, which would ensure Milutinov won't be signed in 2019/20.
Lauvergne's, Costello's, and Hilliard's cap holds remain on the Spurs' books because they haven't been renounced after going unsigned in 2018/19. They can't be used in a sign-and-trade deal.
This is a projected value. In the unlikely event the Spurs risk going into the tax, they may forfeit the bi-annual exception and have to use the taxpayer mid-level exception ($5,711,000) rather than the full mid-level exception.
Note: Minimum-salary and rookie-scale cap holds are estimates based on salary cap projections and could increase or decrease depending on where the cap lands.
Salary information from Basketball Insiders and RealGM was used in the creation of this post. Photo courtesy of USA Today Sports Images.