For a second straight year, the Jazz finished the regular season with a strong home stretch after an up-and-down first half. And for a second straight year, they ran into the Rockets in the playoffs, unable to mount a serious threat against James Harden's squad. With the current squad having perhaps reached its ceiling, the Jazz will likely look to make some changes to their roster this summer.
Here's where things currently stand for the Jazz financially, as we continue our Offseason Salary Cap Digest series for 2019:
Guaranteed Salary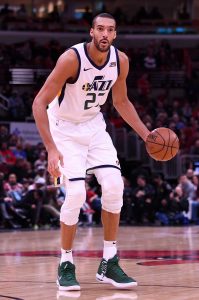 Rudy Gobert ($25,008,427)
Joe Ingles ($11,954,546)
Dante Exum ($9,600,000)
Jae Crowder ($7,815,533)
Donovan Mitchell ($3,635,760)
Kyle Korver ($3,440,000) — Partial guarantee. Non-guaranteed portion noted below. 1
Grayson Allen ($2,429,400)
Tony Bradley ($1,962,360)
Total: $65,846,026

Player Options
Team Options
Non-Guaranteed Salary
Derrick Favors ($17,650,000) 2
Kyle Korver ($4,120,000) 1
Raul Neto ($2,150,000) 3
Georges Niang ($1,645,357)
Royce O'Neale ($1,618,520)
Total: $27,183,877

Restricted Free Agents
Unrestricted Free Agents / Other Cap Holds
Ricky Rubio ($22,462,500): Bird rights
Thabo Sefolosha ($6,825,000): Early Bird rights
Ekpe Udoh ($4,368,000): Early Bird rights
No. 23 overall pick ($2,281,800)
Erik McCree ($1,443,842): Non-Bird rights 5
Total: $37,381,142
Projected Salary Cap: $109,000,000
Projected Tax Line: $132,000,000
Offseason Cap Outlook

Maximum cap room projection: $38.9MM
This projection takes into account Utah's seven players on fully guaranteed salaries, O'Neale's non-guaranteed salary, and the cap hold for their first-round pick. It also assumes that Korver is waived and stretched.
The Jazz could end up with significantly less cap room. If Favors is retained, for example, his cap hit would reduce Utah's cap space by nearly $17MM. Retaining other non-guaranteed players like Neto and Niang would further cut into that space. If the Jazz were to waive-and-stretch Korver but retained Favors, Neto, and O'Neale, they'd have $20.8MM in cap room.
Cap Exceptions Available
Room exception: $4,760,000 6
Footnotes
Favors' salary becomes fully guaranteed after July 6.
Korver's salary becomes fully guaranteed after July 7.
Neto's salary becomes fully guaranteed after July 6.
The salaries for two-way players don't count against a team's cap, but their cap holds do during the offseason.
McCree can't be used in a sign-and-trade deal.
This is a projected value. In the event the Jazz remain over the cap, they'd instead have access to the full mid-level exception ($9,246,000), the bi-annual exception ($3,619,000), and their lone trade exception ($3,976,515; expires 11/29/19).
Note: Minimum-salary and rookie-scale cap holds are estimates based on salary cap projections and could increase or decrease depending on where the cap lands.
Salary information from Basketball Insiders and RealGM was used in the creation of this post. Photo courtesy of USA Today Sports Images.