Despite being swept out of the first round of the postseason in 2018, the Trail Blazers ran back virtually the same roster for the 2018/19 season and the team's confidence in its core players paid dividends.
With a more favorable playoff draw in 2019, Portland won two series, earning a spot in the Western Conference Finals for the first time in nearly 20 years. The club's success led to renewed faith in its core, including head coach Terry Stotts and president of basketball operations Neil Olshey, who both signed contract extensions.
Here's where things currently stand for the Trail Blazers financially, as we continue our Offseason Salary Cap Digest series for 2019:
Guaranteed Salary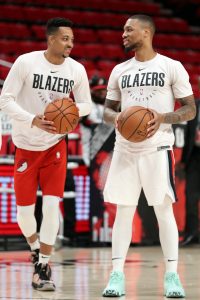 Damian Lillard ($29,802,321)
CJ McCollum ($27,556,959)
Evan Turner ($18,606,556)
Jusuf Nurkic ($12,000,000)
Maurice Harkless ($11,511,234)
Meyers Leonard ($11,286,515)
Zach Collins ($4,240,200)
Andrew Nicholson ($2,844,430) — Waived via stretch provision
Skal Labissiere ($2,338,847)
Anfernee Simons ($2,149,560)
Anderson Varejao ($1,913,345) — Waived via stretch provision
Gary Trent Jr. ($1,416,852)
Festus Ezeli ($333,333) — Waived via stretch provision
Total: $126,000,152

Player Options
Team Options
Non-Guaranteed Salary
Restricted Free Agents
Unrestricted Free Agents / Other Cap Holds
Al-Farouq Aminu ($13,218,500): Bird rights
Rodney Hood ($4,167,466): Non-Bird rights
Seth Curry ($3,354,000): Non-Bird rights
No. 25 overall pick ($2,103,000)
Enes Kanter ($1,618,486): Non-Bird rights
Total: $24,461,452
Projected Salary Cap: $109,000,000
Projected Tax Line: $132,000,000
Offseason Cap Outlook

Realistic cap room projection: $0

With $126MM already committed to 10 players for 2019/20, the Trail Blazers project to be back in the tax next season unless they can cut costs a little or fill out their roster extremely cheaply. Their odds of creating cap room are extremely slim.
Cap Exceptions Available
Taxpayer mid-level exception: $5,711,000 1
Footnotes
This is a projected value. If the Trail Blazers were to reduce salary and stay out of tax territory, they could instead have access to the full mid-level exception ($9,246,000) and the bi-annual exception ($3,619,000).
Note: Minimum-salary and rookie-scale cap holds are estimates based on salary cap projections and could increase or decrease depending on where the cap lands.
Salary information from Basketball Insiders and RealGM was used in the creation of this post. Photo courtesy of USA Today Sports Images.