The Bucks were a popular sleeper contender pick entering the 2018/19 season, but few fans or experts anticipated they'd make the sort of jump they did. After having failed to get past the first round of the playoffs since 2001, Milwaukee led the NBA with 60 wins and built a 2-0 lead in the Eastern Conference Finals before falling to Toronto. While falling short of the NBA Finals was a disappointment, the franchise took a huge step in the right direction this past year and is poised to build on that progress going forward.
Here's where things currently stand for the Bucks financially, as we continue our Offseason Salary Cap Digest series for 2019:
Guaranteed Salary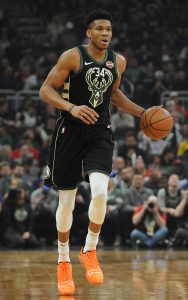 Giannis Antetokounmpo ($25,842,697)
Eric Bledsoe ($15,625,000)
Tony Snell ($11,492,857)
Ersan Ilyasova ($7,000,000)
D.J. Wilson ($2,961,120)
Donte DiVincenzo ($2,905,800)
Spencer Hawes ($2,007,058) — Waived via stretch provision
Larry Sanders ($1,865,546) — Waived via stretch provision
George Hill ($1,000,000) — Partial guarantee. Non-guaranteed portion noted below. 1
Bonzie Colson (two-way)
Total: $70,700,078

Player Options
Team Options
Non-Guaranteed Salary
Restricted Free Agents
Unrestricted Free Agents / Other Cap Holds
Nikola Mirotic ($18,750,000): Bird rights
Brook Lopez ($4,058,400): Non-Bird rights
No. 30 overall pick ($1,934,040)
Tim Frazier ($1,618,486): Non-Bird rights
Pau Gasol ($1,618,486): Non-Bird rights
Total: $27,979,412
Projected Salary Cap: $109,000,000
Projected Tax Line: $132,000,000
Offseason Cap Outlook

Cap room projection No. 1: $10.3MM

The Bucks' cap situation is a fascinating one, given the various free agent cap holds and non-guaranteed contracts in play. This scenario is one I view as pretty plausible. It assumes the Bucks waive-and-stretch Hill, keep the rest of their players on guaranteed contracts, retain Connaughton, Brown, and their first-round pick, and keep the cap holds for Brogdon and Middleton ($19.5MM) on their books, renouncing the rest. That would leave $10.3MM in cap room for Lopez and/or other FA targets, plus the room exception. After using that room, the club could then go over the cap – and potentially even into the tax – to re-sign Middleton and Brogdon using Bird rights.
Cap room projection No. 2: $0
This scenario assumes the Bucks keep all their cap holds – including Lopez's and Mirotic's – on their books and remain an over-the-cap team. It's another one of the most realistic outcomes, since Milwaukee would still be able to use some form of the mid-level exception. But it only really makes sense if the Bucks can re-sign Mirotic with his Bird rights or Lopez with his Non-Bird rights.
Cap room projection No. 3: $28.9MM

This projection assumes the same series of events as scenario No. 1, but assumes Middleton signs elsewhere and his cap hold comes off the team's books. I don't think that's too likely, but the Bucks could get pretty close to a maximum-salary slot even without renouncing Brogdon.
It's worth noting that the Bucks' cap projection could look different than any of these scenarios if the team makes a trade or two, potentially dumping Snell's contract to create more flexibility.
Cap Exceptions Available
Mid-level exception: $9,246,000 2
Footnotes
Hill's salary becomes fully guaranteed after July 1.
This is a projected value. In the event the Bucks use cap room, they'd lose this exception and would instead would gain access to the $4,760,000 room exception. If the Bucks are at risk of going into tax territory, they may have to use the taxpayer mid-level exception ($5,711,000) rather than the full mid-level exception.
Note: Minimum-salary and rookie-scale cap holds are estimates based on salary cap projections and could increase or decrease depending on where the cap lands.
Salary information from Basketball Insiders, ESPN.com, and RealGM was used in the creation of this post. Photo courtesy of USA Today Sports Images.