After spending several years mired in NBA obscurity as the ramifications of an ill-fated trade with Boston limited their ability to acquire impact talent, the Nets finally broke through in 2018/19, earning their first playoff berth since 2015.
Suddenly, with the weight of the Celtics trade off their shoulders (Brooklyn's 2018 first-round pick was the final piece of that deal), the Nets have a bright future ahead of them. They managed to add young talent like D'Angelo Russell, Caris LeVert, and Jarrett Allen in recent years despite a dearth of lottery picks, and they're now positioned to bring in one or two star free agents to complement their young core.
Here are five key questions facing the franchise this summer:
1. What does the Nets' Allen Crabbe trade signify?

It's rare for two NBA teams to reach an agreement on a trade before the NBA Finals end, but the Nets and Hawks did just that last week, agreeing to a swap that will send Crabbe to Atlanta along with two first-round picks (this year's No. 17 overall selection and next year's top-14 protected pick). In return, Brooklyn will receive solid young wing Taurean Prince, Atlanta's 2021 second-round pick, and – most importantly – additional cap flexibility.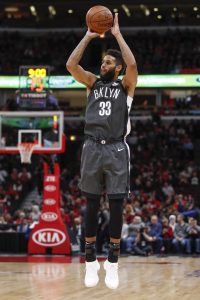 The trade can't officially be completed until July for cap reasons. But after removing the cap hold for the No. 17 pick ($2.96MM) and Crabbe's expiring salary ($18.5MM) from their books and replacing it with Prince's expiring deal ($3.48MM) and an empty roster charge ($897K), the Nets will have created about $17MM in extra cap space.
Before the deal, the Nets had no path to two maximum-salary slots and wouldn't have had enough space for even a single max free agent if they'd retained Russell's cap hold. Now, even if Russell sticks around, the club can comfortably afford a max-level player along with a second free agent above the mid-level. Renouncing Russell would clear a path to two max slots (with a caveat, as we'll explain in the next section).
Teams generally don't make this sort of move unless they know something — the Nets aren't giving up two first-round picks to shed salary unless they're pretty confident that the extra cap space will come in handy.
It's probably not a coincidence that rumors linking Kyrie Irving to Brooklyn heated up right around the same time this deal was agreed upon. While things could change in the next few weeks, the possibility of Irving becoming a Net looks increasingly likely in the wake of the Crabbe trade, as a Thursday report suggested.
2. Is the Nets' goal to pair Irving with Kevin Durant?

For much of the year, Irving and Durant have been linked to the Knicks, with rumors swirling throughout the season that the two friends were eyeing a move to New York in free agency. But if Irving's focus has shifted from the Knicks to the Nets, it's reasonable to wonder if maybe Durant's has, too.
For their part, the Nets appear to be very interested in bringing both stars to Brooklyn. ESPN's Adrian Wojnarowski recently reported as much, even after Durant suffered an Achilles tear that will likely sideline him for all of next season. But the team has also been linked to a handful of other top free agents, including Tobias Harris and Jimmy Butler.
While a healthy Durant would be Brooklyn's first choice, it's not clear whether the injured version will still be atop the club's wish list if Harris or Butler are clamoring to sign with the Nets. If only one of the three is interested in becoming a Net, it would simplify the team's decision-making process; otherwise, GM Sean Marks and his front office will have to decide how to weigh the short- and long-term benefits of adding each player.
It's worth noting that even though it's been reported the Nets now have two maximum-salary slots, the team doesn't actually have enough room for Irving and Durant quite yet.
If they renounce Russell and sign Irving to a max deal, the Nets would have about $35.8MM in space. That's enough for a maximum contract for Harris or Butler, who are eligible for up to 30% of the cap ($32.7MM). But since Durant has 10+ years of experience and can get a starting salary worth up to 35% of the cap, he'd be eligible for a projected $38.15MM max. The Nets would need to make another minor move or two to create that room.
3. What does D'Angelo Russell's future hold?

It's not really fair to Russell, who enjoyed a breakout season and made his first All-Star team in 2018/19, that he's practically an afterthought heading into the team's offseason. He'll be a restricted free agent, and appears likely to receive a maximum-salary or near-max deal. Since he has fewer than seven years of NBA experience, D-Lo can get a starting salary worth up to 25% of the cap, which projects to be $27.25MM.
If the Nets can lure two top veteran free agents to Brooklyn, they'll probably renounce Russell and let him move on to a new home as an unrestricted free agent, since his cap hold would get in the way of opening up space and getting anything for him in a sign-and-trade would be tricky.
But if the Nets don't get those two star free agents, things with Russell could get interesting. He has sent signals that he'd welcome playing alongside Irving, but I can't see a scenario in which both point guards and Spencer Dinwiddie are all on the roster next season.
A Dinwiddie trade is possible, since that would at least allow the Nets to maximize their assets, but that would mean investing huge money in two free agent point guards, which isn't an ideal outcome. I'm also not sold on the Irving/Russell fit in general.
Marks' history of going after other teams' restricted free agents also shouldn't be overlooked here either. Those past offer sheets to players like Crabbe, Tyler Johnson, Otto Porter, and Donatas Motiejunas might have rubbed some teams the wrong way, and it wouldn't surprise me if there are clubs eager to turn the tables on Marks this summer. Extending a lucrative offer sheet to Russell and forcing the Nets into a tough decision early in free agency would be a way to do so.
At this point, it looks slightly more likely that Russell will join a new team rather than re-sign with the Nets, but there are so many moving pieces involved that things could change quickly. A long-term stay remains possible for Russell if Irving doesn't end up choosing Brooklyn or doesn't get another star to follow him to the Nets.
4. Will the Nets extend Caris LeVert?

While Russell's breakout performance carried the Nets for much of the season, it's easy to forget now that LeVert looked like the team's best player in the early going before a serious foot injury sidelined him for a good chunk of the season.
With Russell receiving significant defensive attention from the Sixers in the playoffs, LeVert appeared to be reclaiming that title, averaging 21.0 PPG on .493/.462/.724 shooting in five games (Russell posted 19.4 PPG on .359/.324/.846 shooting).
As the Nets navigate possible cap-room and positional concerns to determine Russell's future, they should have no such issues with LeVert. No free agent that Brooklyn adds should overlap with LeVert in a way that diminishes his skill set, and the Nets are in position to sign him this offseason to a rookie scale extension that would go into effect in 2020/21.
Assuming LeVert isn't included in a trade package for another star, I expect the Nets to make a strong effort to get something done with him this offseason. Coming off his injury, they might be able to lock him up at a slightly lesser rate than they would in restricted free agency in 2020 once he has another full season under his belt. Plus, if this summer goes well, Brooklyn will likely be an over-the-cap team for the foreseeable future, so avoiding an early agreement with LeVert in order to keep his smaller cap hold on the 2020/21 books won't be a priority.
That doesn't guarantee that the two sides will get something done by the October extension deadline, but I think they'll try.
5. How should the Nets add size to their frontcourt?

Allen is an impressive young center, and Ed Davis was a savvy veteran addition to last year's roster. The duo performed well for Brooklyn all season. However, the front line's lack of size hurt the team at times — particularly in the playoffs, when Joel Embiid ran roughshod over the Nets (to the tune of 24.8 PPG and 13.5 RPG in just 24.3 MPG).
The Nets will reportedly consider beefing up their frontcourt in the draft, but it's unlikely that they'll find an immediate answer there, especially now that they've traded away the No. 17 pick.
With Anthony Davis heading to the Lakers, trading for the superstar is no longer an option.
The Nets' top free agent targets aren't big men, so the position may have to be addressed in the bargain bin in free agency, as the club did last year when it signed Davis (Ed, not Anthony) using the room exception.
This time around, a veteran like Tyson Chandler, Robin Lopez, or DeAndre Jordan would be a good fit on Brooklyn's roster if the Nets can afford one of them and offer the kind of role they'd be seeking.
---
Check out the Brooklyn Nets' offseason salary cap outlook right here.

---
Salary information from Basketball Insiders was used in the creation of this post. Photos courtesy of USA Today Sports Images.