The Pacers' refusal to slide too far down the Eastern Conference standings after Victor Oladipo's season-ending quad injury in 2018/19 was representative of the franchise's history over the last three decades. Throughout multiple management regimes, Indiana has never seriously considered bottoming out and building through the lottery — the team hasn't won fewer than 32 games in a season since 1988/89.
Even with Oladipo still recovering and six of their eight playoff rotation regulars headed for unrestricted free agency, the Pacers will carry that approach into the 2019 offseason and into the '19/20 season. As long as Indiana doesn't have a disastrous offseason, it's probably safe to assume we'll see the club back in the playoffs again in 2020.
Here are five key questions facing the franchise this summer:
1. Which of their free agents do the Pacers want to bring back?

Bojan Bogdanovic, Thaddeus Young, Darren Collison, Cory Joseph, Wesley Matthews, Tyreke Evans, and Kyle O'Quinn are all on track to reach the open market this summer, so it's possible the Pacers' roster will look very different next season. Still, I'd expect the team to try to re-sign at least a couple of its free agents.
We can rule out Evans as an option — he has been disqualified from playing in the NBA for the next two seasons for violating the league's drug policy. I'd also be surprised if O'Quinn returns. He didn't play a regular role for Indiana after signing for the room exception, and will likely seek a team willing to give him more consistent backup minutes.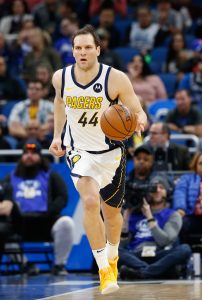 The Pacers figure to at least kick the tires on the rest of their free agents though, with Bogdanovic topping the list of priorities. The 30-year-old sharpshooter took on more substantial scoring and play-making responsibilities following Oladipo's injury, and while he won't play that same role if the Pacers' MVP comes back healthy, Bogdanovic proved that he can be a very valuable asset. He'll be in line for a raise on his $10.5MM salary, and Indiana is in a good position to give it to him.
The Pacers will look to bring back Bogdanovic for his offensive skill set, but for Young, it's his defensive versatility that makes him a reliable contributor. Although he can chip in on the offense end – even a little as a passer, as his career-high 2.5 APG showed – Young's value stems from his ability to capably guard both wings and bigs. If Indiana can bring him back at a price similar to – or below – his $13.76MM salary from last season, that'd be a solid investment.
Collison, Joseph, and Matthews are all candidates to return. However, I wouldn't expect both point guards to re-sign in Indiana, and it's possible the team won't aggressively pursue either. Matthews, meanwhile, joined the Pacers on the buyout market because of the team's promise of a significant role. With Oladipo on his way back, there's no guarantee that Indiana would be able to offer him that sort of playing time again.
2. How will the Pacers address their point guard spot?

After Collison and Joseph handled the majority of the point guard minutes last season, the position may look drastically different for the Pacers in 2019/20. The team has been linked to some pretty big names, including D'Angelo Russell and Mike Conley, and it's not unrealistic to think a major splash is possible.
Russell will be a restricted free agent, but if the Nets are truly the frontrunner for Kyrie Irving, it could open up an opportunity for the Pacers to make a play for the former No. 2 overall pick. I can't envision a scenario in which the Nets retain both Russell and Spencer Dinwiddie while adding Irving. If Brooklyn withdraws its qualifying offer from Russell, the Pacers should have the cap flexibility to make a run at him.
If Indiana doesn't want to invest heavily in a free agent, making a trade offer for Conley is another potential path. The Pacers don't have many realistic salary-matching pieces and will probably be reluctant to trade either Myles Turner or Domantas Sabonis for a veteran who is set to earn $32.5MM in his age-32 season. But absorbing Conley's salary using cap room and offering a package of draft picks and a young prospect or two might work.
Assuming Aaron Holiday isn't used in a trade for Conley or another upgrade, he appears poised to step into the backup role at the point. He played well in his limited role as a rookie and wouldn't be asked to do a whole lot more if the Pacers can acquire an impact guard and get Oladipo back to share some of the ball-handling duties.
3. How will the Pacers handle the Turner/Sabonis frontcourt?

The Pacers committed to Turner on a four-year, $72MM extension last summer, which will go into effect for the 2019/20 season. That gamble paid off in spades. After a slow start, Turner enjoyed his best season as a pro, showing off an improved three-point shot (.388 3PT%, 1.0 3PG) and next-level rim protection (a league-leading 2.7 BPG).
He's exactly the sort of young, versatile center that any NBA team would love to have, and the Pacers have him locked up through 2022/23 at a reasonable rate. He'd be a valuable trade piece, but I expect the organization to view him as a long-term building block instead.
The only problem? Turner was limited to 28.6 minutes per game last season because the Pacers also needed to find minutes for their other talented young center. With 14.1 PPG, 9.3 RPG, and 2.9 APG in just 24.8 minutes per contest, Sabonis was a stronger scorer, rebounder, and play-maker than Turner.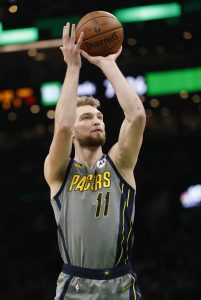 Ideally, the two young bigs would be able to co-exist and thrive alongside one another in Indiana's frontcourt for the next several years, but the team got mixed results when they shared the court in 2018/19.
The Pacers' 96.5 defensive rating with both players on the floor would've led the NBA by a substantial margin, but their 99.6 offensive rating would have been the league's worst. And lineups featuring Sabonis without Turner performed better than lineups featuring both players.
It will be fascinating to see what the Pacers decide to do with their frontcourt duo, particularly since Sabonis is up for an extension of his own this offseason. Either player would be an excellent trade chip if he's put on the block, but the team may want to see more of the duo playing together.
One encouraging statistic? The Pacers had 85 three-man groups that played at least 125 minutes together in 2018/19. The trio of Oladipo, Turner, and Sabonis had the best net rating of any of them (+13.7).
4. What trade possibilities are available to the Pacers?

If the Pacers aren't willing to trade Turner or Sabonis, it's hard to see them being able to put together a package that could land a true impact player. Oladipo isn't going anywhere, and Doug McDermott and T.J. Leaf don't have much trade value. Holiday is promising, but not to the extent that he'd be the centerpiece of a major deal.
The Pacers don't often deal away their draft picks, but they haven't been totally averse to it in the past — in 2016, Indiana sent the No. 20 pick to the Nets in exchange for Young in a trade that worked out well for both sides (Brooklyn drafted Caris LeVert). If the Pacers have any concerns about attracting free agents to Indiana, they could explore the trade route again with this year's No. 18 overall pick.
The players the Pacers could target in trade discussions will hinge on their expectations for free agency. For instance, if they think Young might depart, I could see the Pacers targeting a stretch four like Aaron Gordon or Danilo Gallinari. If they're not expecting to re-sign their point guards, someone like Conley – or maybe even Goran Dragic – would make more sense. While players such as Gordon and Conley would require a real return, it might not take much more than cap room to land someone like Gallinari and Dragic.
5. What will the Pacers do with the No. 18 overall pick?

If we assume the Pacers keep their first-round pick, targeting the best player available makes sense. The team doesn't have any glaring holes that need to be addressed, and it's not as if the 18th player off the board in the draft would be capable of immediately filling that sort of hole anyway.
Indiana native Romeo Langford would be an intriguing pick at this spot, but he's off the board by No. 18 in most mock drafts. Tyler Herro or Nickeil Alexander-Walker would add more shooting to Indiana's roster. Kevin Porter Jr. might make a nice upside play. PJ Washington would be a good fit if he lasts this long, though I'm skeptical he will.
The Pacers have grown accustomed to picking in the back half of the first round, but they haven't found many gems there in recent years, and given the perceived weakness of this year's draft class, the odds of doing so aren't necessarily in their favor. If Indiana gets a trade offer it likes for the No. 18 selection, the team should consider pulling the trigger.
---
Check out the Indiana Pacers' offseason salary cap outlook right here.

---
Salary information from Basketball Insiders was used in the creation of this post. Photos courtesy of USA Today Sports Images.