The Pacers proved in the early going this season that their 2017/18 success was no fluke, then proved they were capable of winning games without their star player after Victor Oladipo went down with a season-ending quad injury. Ultimately, the Oladipo-less Pacers couldn't make any noise in the playoffs, but there's plenty of reason for optimism as they enter an important offseason.
Here's where things currently stand for the Pacers financially, as we continue our Offseason Salary Cap Digest series for 2019: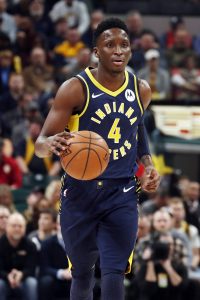 Guaranteed Salary
Victor Oladipo ($21,000,000)
Myles Turner ($18,000,000)
Doug McDermott ($7,333,333)
Domantas Sabonis ($3,529,555)
T.J. Leaf ($2,813,280)
Monta Ellis ($2,245,400) — Waived via stretch provision
Aaron Holiday ($2,239,200)
Alize Johnson ($761,536) — Partial guarantee. Non-guaranteed portion noted below. 1
Total: $57,922,304

Player Options
Team Options
Non-Guaranteed Salary
Alize Johnson ($655,316) 1
Total: $655,316

Restricted Free Agents
Unrestricted Free Agents / Other Cap Holds
Thaddeus Young ($20,646,068): Bird rights
Cory Joseph ($15,095,500): Bird rights
Tyreke Evans ($14,880,000): Non-Bird rights
Bojan Bogdanovic ($13,650,000): Early Bird rights
Darren Collison ($13,000,000): Early Bird rights
Kyle O'Quinn ($5,338,800): Non-Bird rights
No. 18 overall pick ($2,813,280)
Wesley Matthews ($1,618,486): Non-Bird rights
Total: $87,042,134
Projected Salary Cap: $109,000,000
Projected Tax Line: $132,000,000
Offseason Cap Outlook

Maximum cap room projection: $44MM
This cap projection assumes the Pacers keep their seven players with salary guarantees (including Johnson, since waiving him would mean eating his guarantee and replacing him with an empty roster charge) and their first-round pick.
In reality, if the Pacers plan on re-signing two or three of their free agents, it's possible they'll have much less cap room. They could even operate as an over-the-cap team if they bring back a few players. For what it's worth, retaining Bogdanovic's cap hold along with their other seven players and their pick would result in about $31.3MM in cap space.
Cap Exceptions Available
Room exception: $4,760,000 3
Footnotes
Johnson's salary becomes fully guaranteed after July 15.
The salaries for two-way players don't count against a team's cap, but their cap holds do during the offseason.
This is a projected value. In the event the Pacers remain over the cap, they'd instead have access to the full mid-level exception ($9,246,000) and the bi-annual exception ($3,619,000).
Note: Minimum-salary and rookie-scale cap holds are estimates based on salary cap projections and could increase or decrease depending on where the cap lands.
Salary information from Basketball Insiders and RealGM was used in the creation of this post. Photo courtesy of USA Today Sports Images.