An MVP-caliber season from Paul George had the Thunder looking like one of the Warriors' most dangerous challengers for the Western Conference crown for much of the year. However, with George battling a shoulder issue by season's end, the team once again flamed out early in the playoffs, as Damian Lillard ended Oklahoma City's season with a memorable dagger in Game 5 of the first round.
After paying a league-high $61MM+ luxury tax bill for a roster that produced a single postseason win, Thunder ownership will have to decide whether to double down or pull back for the 2019/20 campaign. The club's front office will in turn have its offseason options impacted by that decision.
Here are five key questions facing the franchise this summer:
1. Will the Thunder trade any core pieces?

The Thunder's de facto "Big Three" – George, Russell Westbrook, and Steven Adams – will combine to earn more than $97MM next season, and all three players have multiple guaranteed seasons left on their respective contracts. If Oklahoma City wants to cut costs going forward, moving one of those players would be a start.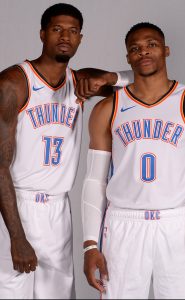 It's not just about shedding salary though. The Thunder haven't won a playoff series since Kevin Durant's departure in 2016. Westbrook and Adams were cornerstones in each of those three seasons, while George has been there for the last two. As the sample size keeps increasing and the postseason losses keep piling up, it's fair to question whether this core is capable of making a deep playoff run — especially since the exorbitant cost of the trio limits the Thunder's ability to add reinforcements.
George, who will earn $33MM in 2019/20, certainly proved last season that he's worth the price tag, and there's no chance that the Thunder will look to move him one year after he committed to the organization long-term.
Westbrook, who will make $38.5MM in the second season of his five-year super-max deal, has a more unfavorable contract, but he's not going anywhere either. As his efficiency numbers continue to slip, it's looking increasingly likely that the last couple years of his contract ($44.2MM in 2021/22; $47MM in 2022/23) will be hard to swallow, but he's the heart and soul of the Thunder, and the engine who drives the team. Oklahoma City wouldn't seriously consider trading him unless he wanted out.
That leaves Adams, who looks like the only realistic trade candidate of the group. If the Thunder could take his $25.8MM cap charge and commit half that money to a stretch four and the other half a to a two-way wing, I'm sure they'd jump at the chance to do so. But the odds of finding a trade along those lines are slim. It wouldn't surprise me if Oklahoma City gauges the trade market for Adams this summer, but there won't be teams clamoring to acquire him at that price.
2. How much of a priority is reducing the projected tax bill?

After Patrick Patterson exercised his player option last month, the Thunder's total guaranteed commitments for 2019/20 rose to approximately $143.5MM for nine players, plus a $2.5MM cap hold for a first-round pick. The tax line is projected to land at around $132MM. That's a problem.
Thunder ownership has shown it's willing to invest heavily in the team's roster, but I'm somewhat skeptical that will continue – at least at the current level – after a third straight first-round exit. Team owners that enter tax territory do so because they believe a championship run is within reach, and the Thunder haven't shown they're all that close to that goal in recent years.
I don't expect an all-out fire sale, and it wouldn't even surprise me if the Thunder remain over the tax line heading into the fall, but I think the club will make moves to reduce that $143.5MM figure.
Attaching the No. 21 overall pick in the draft to Andre Roberson and Patterson, who will combine to earn nearly $16.5MM on expiring deals, would be one option, though surrendering that first-rounder isn't a great outcome for a Thunder team that needs to add inexpensive young talent.
Dennis Schroder, who has two years left on his contract at $15.5MM annually, could also be a trade chip if the club is willing to sacrifice a solid rotation player for financial reasons.
3. How can the club add shooting help, given its financial restrictions?

Only three players on the Thunder's roster shot better than 34.1% from three-point range in 2018/19: George, Jerami Grant, and Terrance Ferguson. Continued reliability and improvement from Grant and Ferguson would be huge for OKC, but the team still needs more outside shooting, as it has been an Achilles heel for multiple seasons.
Two-way wings like Trevor Ariza or Terrence Ross would be ideal free agent targets for the Thunder, but the team will likely only have the taxpayer mid-level exception (worth approximately $5.7MM) available, and those players figure to command larger salaries.
Reggie Bullock, Seth Curry, Wesley Matthews, Wayne Ellington, Rodney Hood, Frank Kaminsky, Trey Lyles, Justin Holiday, Mike Scott, and Troy Daniels are among the other options that could be more affordable for the Thunder, but a handful of those players could easily get offers that exceed the mini mid-level too.
A trade could bring in some shooting help, particularly if the Thunder are willing to use their first-round pick to upgrade the roster rather than cut costs. If they keep that selection, the Thunder could draft an affordable outside shooter, though a rookie may not be ready to step into a rotation role immediately. Tyler Herro, Cameron Johnson, and Nickeil Alexander-Walker are among the shooters who might be available at No. 21.
4. Which under-the-radar free agents could help the Thunder at the minimum?

Filling out the final few roster spots with minimum salary players makes sense for a team facing potential tax penalties. The Rockets were among the cap-strapped clubs who showed in 2018/19 that minimum-level veterans can be solid contributors. Carmelo Anthony and Michael Carter-Williams didn't work out in Houston, but James Ennis, Austin Rivers, Gerald Green, Danuel House, and Kenneth Faried performed capably on minimum deals.
The Thunder's front office will be keeping its eye out for bounce-back candidates or players who slip through the cracks in free agency. Given how deep and talented this year's crop of free agents is, there should be opportunities for OKC to make at least a couple value signings.
While it's too early to say which players will receive strong interest and which ones may not sign until the third or fourth tier of free agency, some of the veterans who could appeal to the Thunder (and other teams hunting for bargains) include Ian Clark, David Nwaba, Vince Carter, Jared Dudley, Darius Miller, Mario Hezonja, Anthony Tolliver, and Mike Muscala.
5. How secure is Billy Donovan's job?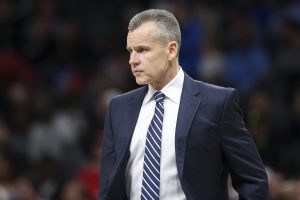 Donovan will be on the lookout for a new group of assistant coaches for the 2019/20 season, as several of the members of his staff from last season have moved on to new jobs. Mark Bryant and Darko Rajakovic are reportedly joining the Suns, while Bob Beyer will head to the Kings.
Phoenix and Sacramento have something in common — both teams just hired new head coaches to long-term deals, giving their assistants some job security. That's not the case in Oklahoma City, where Donovan is only under contract through 2019/20. Assuming no extension is forthcoming, that means there are no guarantees for either Donovan or his staff through next season.
It's rare for an NBA head coach to enter the final year of his contract as a "lame duck," so it's possible the two sides could still reach an agreement this offseason that extends Donovan's deal by at least one more year. But Sam Presti's end-of-season declaration that he "anticipates" Donovan's return in 2019/20 didn't exactly signal that the head coach is safe for the long term.
Regardless of what happens with Donovan's contract, it's safe to assume he'll be under increased scrutiny going forward. Given the talent at the top of their roster, the Thunder won't be satisfied with many more one-and-done postseason runs.
---
Check out the Oklahoma City Thunder's offseason salary cap outlook right here.

---
Salary information from Basketball Insiders was used in the creation of this post. Photos courtesy of USA Today Sports Images.