JUNE 30: The Nets and Irving have agreed to a four-year, $140,790,600 deal, tweets Shams Charania of The Athletic. According to Charania, it includes a fourth-year player option.
[UPDATE: Irving will accept less than the max to accommodate a $40MM deal for DeAndre Jordan]
JUNE 29: The Nets and free agent point guard Kyrie Irving are set to meet in New York on Sunday, according to ESPN's Adrian Wojnarowski, who reports (via Twitter) that the two sides are motivated to quickly agree to terms on a four-year, maximum-salary contract worth a projected $141MM.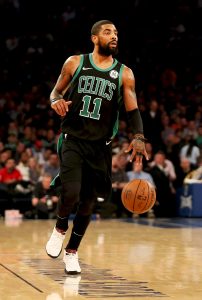 Once Irving commits to the Nets, the team is expected to renounce restricted free agent D'Angelo Russell, allowing him to become unrestricted, league sources tell Wojnarowski (Twitter link). However, Brooklyn is also willing to work with Russell and his reps to help him get to the destination of his choice, and may not renounce his rights if there's a sign-and-trade deal that appeals to the Nets, Woj adds (via Twitter).
[RELATED: Lakers reach out to Russell]
Whether or not Russell's cap hold remains on their books, the Nets will have the room necessary to sign Irving outright. Renouncing Russell – or trading him without taking back any salary – would give the club the room to sign another max-level player to join Kyrie.
It has been a roller coaster year for Irving, who said during a preseason team event with the Celtics that he intended to re-sign with Boston at season's end. A frustrating season with the C's made him re-think that stance, and rumors in recent months suggested that he might be eyeing a move to the Knicks. However, within the last month, multiple reports indicated that it was New York's other team, the Nets, that Irving was focused on joining.
Irving will be moving from one Atlantic playoff team to another after earning All-NBA Second Team honors with the Celtics this past season. He averaged 23.8 PPG and a career-high 6.9 APG and 5.0 RPG with impressive efficiency numbers (.487/.401/.873 shooting). However, locker-room and chemistry issues, as well as a disappointing second-round exit in the postseason, soured his second and final year in Boston.
The Celtics have already lined up a replacement for Irving, as All-NBA Third Team guard Kemba Walker reportedly plans to agree to terms on a four-year, maximum-salary deal with Boston once free agency officially begins on Sunday.
As Boston swaps one All-NBA point guard for another, the Nets will do the same with a pair of All-Star point guards, replacing Russell with Irving. While Russell had an impressive breakout season in Brooklyn in 2018/19, the Nets' willingness to invest big money in Irving reflects the team's belief that the former Cavalier and Celtic is the more dynamic play-maker and scorer.
Once they secure a commitment from Irving, the Nets are expected to pursue his good friend Kevin Durant. They'd need to make at least one more roster move to open up the room necessary to land Durant, since his maximum salary projects to be about $5.5MM higher than Kyrie's due to his 10+ years of NBA experience.
If the Nets can't land Durant, they'll have plenty of other options on the free agent market. Tobias Harris is one name that has been frequently linked to Brooklyn.
Photo courtesy of USA Today Sports Images.