12:48pm: The Nuggets have made it official, announcing in a press release that they've picked up Millsap's option.
11:54am: The Nuggets are picking up their team option for 2019/20 on big man Paul Millsap, reports ESPN's Adrian Wojnarowski (via Twitter). The option will pay Millsap $30.35MM for next season, per ESPN's Bobby Marks.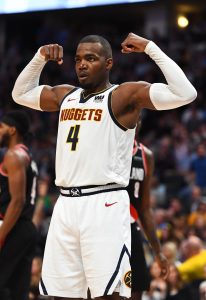 [RELATED: NBA Team Option Decisions For 2019/20]
Millsap, 34, played a slightly reduced role for Denver in 2018/19. His 12.6 PPG and 27.1 MPG were his lowest marks since the 2009/10 campaign. However, his interior presence helped stabilize the Nuggets' defense, and he also chipped in as a rebounder (7.2 RPG) and outside threat (.365 3PT%).
There was some uncertainty over whether the Nuggets would exercise Millsap's option, given its cost. The team was believed to be exploring whether turning down that option and bringing back Millsap on a more favorable multiyear contract was possible. However, as Marks points out (via Twitter), a deal along those lines would have cut into Denver's projected cap space for 2020, which may represent the club's best chance to spend.
If Denver had decided to move on from Millsap altogether, the team could have opened up about $17MM in cap room to pursue an outside free agent. Instead, as Wojnarowski tweets, the Nuggets are in position to potentially use their full mid-level exception ($9.25MM) and still sneak under the projected tax line.
Millsap, meanwhile, is now on track to reach the unrestricted free agent market in 2020 at age 35.
Today represents the last day for clubs to exercise team options or for veterans to pick up player options, so the Nuggets took their decision on Millsap down to the wire.
Photo courtesy of USA Today Sports Images.