NBA teams have now completed the brunt of their offseason work, with the draft and free agency practically distant memories. Still, with training camps more than a month away, many clubs around the league have at least one or two outstanding issues they've yet to address.
We're in the midst of looking at all 30 NBA teams, separating them by division and checking in on a key outstanding question that each club still needs to answer before the 2019/20 regular season begins.
After focusing on the Atlantic and Southeast earlier this week, we're moving onto the Central today. Let's dive in…
Chicago Bulls
Will the Bulls make a trade to clear their point guard logjam?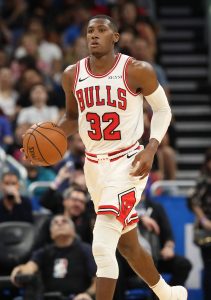 The Bulls didn't waste any time this offseason addressing the point guard position, their biggest need heading into the summer. They used their lottery pick to draft Coby White, then completed a sign-and-trade deal for Tomas Satoransky early in free agency.
It would be logical for Satoransky and White to play most of the point guard minutes for the team in 2019/20, but there are multiple other players who may also enter the mix. The club signaled its fondness for Ryan Arcidiacono with a new three-year contract that will pay him annual salaries of $3MM. Chicago still has former top-five pick Kris Dunn under contract as well. And Shaquille Harrison was re-signed too, albeit on a partially guaranteed deal that doesn't assure him of a roster spot.
White will certainly be a part of the Bulls' future, and multiyear guarantees for Satoransky and Arcidiacono indicate they're very much in the team's plans too. Dunn is the most likely trade candidate on the roster, as has been the case all offseason — after not moving him in June or July, perhaps Chicago can find a taker this fall.
Cleveland Cavaliers
Will all of the Cavs' veterans on expiring contracts stick around?
For a rebuilding team, the Cavaliers sure have a lot of veteran players on their roster at the moment. It makes sense that guys like Kevin Love and Larry Nance Jr. will remain in Cleveland, since the team has invested long-term in those players. But how about all the vets on expiring contracts?
Currently, Tristan Thompson, Brandon Knight, Jordan Clarkson, John Henson, and Matthew Dellavedova account for about $67MM of Cleveland's 2019/20 team salary. All five players are entering contract years and it's hard to imagine that more than one or two of them are part of the team's future plans.
There's nothing wrong with hanging onto those veterans into the season to see if their expiring deals come in handy via trade before the deadline, but the rebuilding Cavs might not want to enter the season with so many veterans vying for regular playing time. Many of those players on expiring contracts will become buyout candidates eventually, if they're not already.
Detroit Pistons
Will Andre Drummond sign a contract extension?
Drummond himself provided a strong hint on his answer to this question this week, suggesting that he's "excited" for the opportunity to hit free agency next summer, when he can turn down his 2020/21 player option and reach the open market.
The veteran center later clarified that he's not anxious to leave the Pistons. However, he did say that he's looking forward to going through the process of being an unrestricted free agent for the first time in his career.
Given those comments, it's unlikely that Drummond signs a long-term extension this fall even if Detroit puts an offer on the table. Still, it's worth noting that the Pistons could theoretically give the big man $145MM+ over four years on a new deal. Even if he's excited about free agency, that's the sort of offer that could give him pause.
Indiana Pacers
What does Victor Oladipo's recovery timetable look like?
Oladipo's 2018/19 season came to an early end when he suffered a ruptured quad tendon, and it looks like the injury will probably delay the start of his 2019/20 season too.
Oladipo and the Pacers have both been cagey about offering a specific recovery timetable, with the star guard not offering many details on his rehab process. The last concrete hint came in June when president of basketball operations Kevin Pritchard said he hoped Oladipo would be back in Indiana's lineup by December or January.
Indiana has enough talent to make the playoffs without a full season from Oladipo, and the team will be patient with its leading scorer. But if the Pacers want to make a run at a top-four seed in the Eastern Conference and home court advantage in round one of the postseason, it'd be great news if Oladipo can return to the court this fall.
Milwaukee Bucks
Will Dragan Bender fill the Bucks' 15th roster spot?
The Bucks currently have 14 players on guaranteed salaries, with Bender in position to claim the team's 15th and final regular season spot. Still, his contract is only partially guaranteed for $300K, giving Milwaukee the flexibility to change course before opening night.
Bender's salary guarantee won't increase unless he makes the team's regular season roster, so if the Bucks suffer injuries in camp or determine that they'd rather carry another point guard or wing, he'd almost certainly be the odd man out.
For now, I'd expect Bender to open the season in Milwaukee, but the fact that the club is still being linked to free agents like Jodie Meeks suggests it's not a lock yet.
Photo courtesy of USA Today Sports Images.