Hoops Rumors is breaking down the 2019 offseason for all 30 NBA teams, revisiting the summer's free agent signings, trades, draft picks, departures, and more. We'll evaluate each team's moves from the last several months and look ahead to what the 2019/20 season holds for all 30 franchises. Today, we're focusing on the New Orleans Pelicans.
Signings:
Standard contracts:

J.J. Redick: Two years, $26.5MM. Signed using cap room.
Darius Miller: Two years, $14.25MM. Second year non-guaranteed. Re-signed using Early Bird rights.
Nicolo Melli: Two years, $8MM. Signed using room exception.

Two-way contracts:
Non-guaranteed camp contracts:
Trades:
Draft picks:
1-1: Zion Williamson — Signed to rookie contract.
1-8: Jaxson Hayes — Signed to rookie contract.
1-17: Nickeil Alexander-Walker — Signed to rookie contract.
2-35: Marcos Louzada Silva — Will play overseas (Australia).
Departing players:
Other offseason news:
Salary cap situation:
Used cap space; now over the cap.
Carrying approximately $114.76MM in guaranteed salary.
$664K of room exception still available ($4.1MM used on Nicolo Melli).
$3.625MM disabled player exception available (expires on 3/10/2020).
---
Story of the summer:
It's rare that an NBA team is able to transition from one franchise player to a new one as cleanly as the Pelicans did this offseason.
Okay, maybe "clean" isn't the right adjective to describe a saga that began with Anthony Davis publicly issuing a midseason trade request that torpedoed New Orleans' 2018/19 season and mired the club in second-half turmoil. That was actually kind of a mess.
But things looked significantly less messy after the Pelicans landed the No. 1 overall pick at the draft lottery in May, putting them in position to select Zion Williamson, the most hyped prospect to enter the NBA since… well, maybe Davis himself.
The Pelicans later turned the page on the Davis era by trading the big man to the Lakers, and despite the fact that they had little leverage to send him anywhere except his preferred destination, the Pels made out pretty well in the deal, acquiring multiple young players and future first-round picks.
As AD exited the frame and Zion entered, the Pelicans also underwent an important transition in the front office, where David Griffin was hired as the team's new head of basketball operations. For years, the Pels had essentially been overseen by the New Orleans Saints' management team, giving them the feel of a junior varsity squad. But Griffin's arrival signaled an important changing of the guard.
Besides bringing a championship pedigree to the Pelicans, Griffin brought something more important: a focus on building an infrastructure and a culture. Whether that means overhauling the medical staff, building up the team's analytics department, or addressing any other holes that had been left unfilled in the past, Griffin prioritized building that sustainable infrastructure from day one.
Williamson will be the face of the franchise for years to come, but if Griffin's work is successful, this could also be remembered as the summer that the Pelicans moved out from the Saints' shadow and began building a winning culture of their own.
Key offseason losses:
The end of Davis' tenure in New Orleans was ugly, but the impact of losing him can't be overstated. It was just a year earlier that he showed the kind of impact he was capable of having on the organization when he helped lead the Pelicans to the second round of the postseason even after DeMarcus Cousins went down with a season-ending injury.
Davis, who has earned six consecutive All-Star berths and three All-NBA nods, was the Pelicans' best offensive player and rebounder, as well as their defensive anchor. Replicating his production will be a tall order for any two of the players left in New Orleans' frontcourt, let alone one.
The Pelicans took another hit up front with the loss of Julius Randle, who opted out of an option with New Orleans to sign a three-year contract with the Knicks. The former No. 7 overall pick enjoyed a career year in 2018/19, with 21.4 PPG and 8.7 RPG, though he has never been an elite defender.
Elfrid Payton will join Randle on the Knicks this season after a disappointing single season with the Pelicans in which he was limited to just 42 games due to injuries. Payton filled the box score when he played (10.6 PPG, 7.6 APG, and 5.2 RPG), but the club's net rating was better when he sat than when he played.
Injury-plagued veteran Solomon Hill, end-of-season standout Christian Wood, young project Cheick Diallo, and rotation players Ian Clark and Stanley Johnson are among the other departing Pelicans.
Key offseason additions: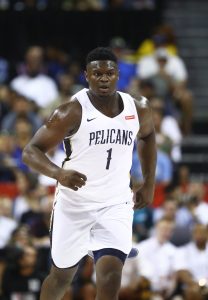 Unless something goes wrong, Williamson should ultimately be the most impactful addition of the offseason for the Pelicans. The club may handle Zion with kid gloves in his rookie season after some minor injury issues during the spring and summer, but given his immense talent and exceptional athleticism, he's capable of having a major on-court impact right away.
The same probably can't be said for the Pelicans' other first-round picks. I wouldn't expect Nickeil Alexander-Walker or Jaxson Hayes to play huge roles immediately – they may each spend some time with the team's new G League affiliate in Erie – but their long-term potential is intriguing.
Speaking of intriguing, Brandon Ingram and Lonzo Ball may no longer be viewed with the same kind of excitement as they were when they were drafted second overall in 2016 and 2017, respectively, but both players have flashed star potential and are still very young.
Staying healthy will be the top priority for Ingram and Ball. A change of scenery may do both of them good as well — on the Lakers, they were expected to turn the franchise around during its rebuilding years, then to help LeBron James transform the club into an overnight contender. In New Orleans, they'll be out of the spotlight and overshadowed by Zion, which will take off some of the pressure.
Besides all their incoming young talent, the Pelicans made a couple key veteran additions this offseason, signing J.J. Redick in free agency and acquiring Derrick Favors in a trade. I like both moves a lot — Redick will provide much-needed floor spacing and takes on even more importance now that fellow sharpshooter Darius Miller will miss the season with a torn Achilles. Favors, meanwhile, was an awkward fit beside Rudy Gobert in Utah, but could thrive as New Orleans' starting center.
Shooting guard Josh Hart, who also came over in the AD trade, and power forward Nicolo Melli, a European import, also join a new-look Pelicans roster and will have a chance to compete for regular rotation roles.
Outlook for 2019/20:
The Pelicans' youth and lack of continuity may limit their ability to get off to a strong start and legitimately contend for the postseason. But this team shouldn't be overlooked. Jrue Holiday is one of the NBA's best two-way guards, Williamson can be an impact player immediately, and the roster features an intriguing mix of breakout candidates (Ingram and Ball) and reliable veteran role players (Redick and Favors).
Exceeding expectations and competing for a No. 8 seed is a possibility, but even if the Pelicans are firmly in the lottery, the team's talented young prospects should give fans hope for a bright future, which wasn't easy to envision down the stretch of the 2018/19 season.
Salary information from Basketball Insiders was used in the creation of this post. Photos courtesy of USA Today Sports Images.