NBA teams have now completed the brunt of their offseason work, with the draft and free agency practically distant memories. Still, with training camps still a few weeks away, many clubs around the league have at least one or two outstanding issues they've yet to address.
We've spent the last couple weeks looking at all 30 NBA teams, separating them by division and checking in on a key outstanding question that each club still needs to answer before the 2019/20 regular season begins.
After focusing on the Atlantic, Southeast, and Central last week, we headed West and tackled the Northwest and Southwest this week. Today, we're finishing things up with the Pacific. Let's dive in…
Golden State Warriors
Will the Warriors try to create any additional breathing room under the hard cap?

As I noted earlier this week when I took a closer look at teams currently in luxury-tax territory, the Warriors are only about $407K from their hard cap, assuming they intend to retain Alfonzo McKinnie along with their 13 players on guaranteed contracts.
That proximity to the hard cap will significantly limit the Warriors' roster flexibility this season. The Dubs won't be able to carry a 15th man until late in the year. They'll have little ability to replace an injured player on the roster. And they essentially won't be able to take back more salary than they send out in any trade.
Warriors management would surely love to create some breathing room by cutting costs, but there aren't many realistic ways for the team to move further below the hard cap. Only six players have cap hits greater than $2MM. Three of them – Stephen Curry, Klay Thompson, and Draymond Green – aren't going anywhere, and the other three – D'Angelo Russell, Kevon Looney, and Willie Cauley-Stein – can't be traded until at least December 15, even if the club wanted to.
In other words, if they want to create any extra room below their hard cap, the Warriors may have to get awfully creative.
Los Angeles Clippers
Who will be the Clippers' 15th man?
The Clippers are carrying 14 players with fully guaranteed salaries and four with non-guaranteed camp contracts, leaving the door open for one of those non-guaranteed players – Donte Grantham, Terry Larrier, James Palmer Jr., or Derrick Walton Jr. – to claim the 15th regular season roster spot.
While it's possible that one of those players will become the Clippers' 15th man, I'd expect a team with title aspirations to be thinking bigger. Leaving that final roster spot open to start the season in case opportunities arise on the trade or buyout market is probably the most likely path for Los Angeles.
Still, it's possible those opportunities will arise even before the season begins, as they did for L.A.'s other team when the Lakers signed Dwight Howard. Andre Iguodala is likely the Clippers' top target to fill out the roster, but other veterans may shake loose as teams set their rosters this fall.
Los Angeles Lakers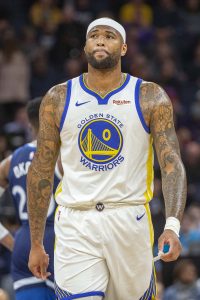 Do the Lakers have a recovery timetable in mind for DeMarcus Cousins?

Assuming Dwight Howard looks okay in training camp, he's on track to fill the Lakers' 15th regular season roster spot. Like the rival Clippers though, the Lakers are a team with championship aspirations and will want to make sure they're optimizing all 15 roster spots. That's where Cousins comes in.
A torn ACL isn't quite as serious as a torn Achilles, so it's possible Cousins will be able to make it back before the end of the 2019/20 season. But it's his third major leg injury in the last two years, so he certainly shouldn't be in a rush to return.
Cousins' contract with the Lakers is only for one year, and he'll receive his full $3.5MM whether or not he spends the whole season on the team's roster. If the Lakers determine Cousins will miss the entire season, it would probably make sense to waive him and open up that roster spot for someone who could contribute in 2019/20.
While releasing Cousins now would create some added preseason roster flexibility, the Lakers won't necessarily have to make this decision before the season begins — waiving him in, say, January would still open up opportunities at or after the trade deadline. His contract could also be used for salary-matching purposes in a deal.
Phoenix Suns
Is Devin Booker happy with the Suns' offseason?

With the 2018/19 season winding down in March, Booker spoke about being involved in the Suns' offseason roster moves, suggesting that there was an "understanding" when he signed his five-year contract extension with the club that he'd have a voice in those decisions.
Booker hasn't spoken in depth this summer about the Suns' offseason, so it's not clear if he pushed for – or voiced support for – any of the team's acquisitions, such as Ricky Rubio, Dario Saric, Aron Baynes, Frank Kaminsky, or first-round pick Cameron Johnson. We did hear in the spring that Booker had no input in the firing of Igor Kokoskov, and a report during free agency suggested that Phoenix opted not to pursue point guard D'Angelo Russell despite Booker's advocacy.
The Suns certainly have no obligation to run every move by their star guard, and as long as the on-court results start to improve, Booker should be on board with the direction of the franchise. Still, it's a situation worth keeping an eye on. Even though he's several years away from free agency, any sign of tension between Booker and the Suns would be a cause for some concern.
Sacramento Kings
Will the Kings sign Buddy Hield to a rookie scale extension?

With Ben Simmons, Jamal Murray, and Caris LeVert locked up to rookie scale extensions, Hield (along with Raptors forward Pascal Siakam) may be the next in line for a new deal. The Kings have until October 21 to get something done with their young sharpshooter, and GM Vlade Divac confirmed this week they're working on it.
It will be fascinating to see if the Kings and Hield's camp can agree on a fair price in the coming weeks. If he replicates or builds upon his impressive 2018/19 season, Hield can reasonably expect to get big-time offers as a restricted free agent in 2020, especially given how weak next year's free agent class projects to be. He has some leverage, and won't necessarily have to settle for a team-friendly deal.
The Kings, on the other hand, will have to be careful in negotiations with Hield, since he's the first of many young players they'll need to lock up in the coming years — De'Aaron Fox will be extension-eligible in 2020, with Marvin Bagley to follow in 2021. The higher they go for Hield, the less flexibility – and leverage – the Kings will have in those future negotiations.
Photos courtesy of USA Today Sports Images.