NBA teams have now completed the brunt of their offseason work, with the draft and free agency practically distant memories. Still, with training camps nearly a month away, many clubs around the league have at least one or two outstanding issues they've yet to address.
We're in the midst of looking at all 30 NBA teams, separating them by division and checking in on a key outstanding question that each club still needs to answer before the 2019/20 regular season begins.
After focusing on the Atlantic, Southeast, and Central last week, we headed West and tackled the Northwest on Sunday. Today, we're moving on to the Southwest. Let's dive in…
Dallas Mavericks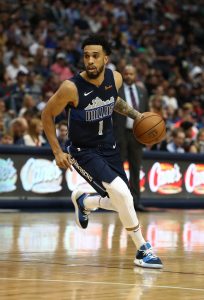 Will the Mavericks move Courtney Lee's expiring contract?

Although the Mavericks had a solid summer, they didn't make the sort of splash in free agency or on the trade market they might have hoped for. At this point in the offseason, a major roster addition is unlikely, but Dallas could still look to upgrade the squad with a trade involving Lee's expiring contract.
Lee is earning $12,759,670 in 2019/20. The NBA's trade rules would allow the Mavs to take back a player making up to $17,759,670 in a straight-up deal for the veteran swingman. Andre Iguodala is said to be one potential target on Dallas' radar, but the Mavs and Grizzlies haven't been able to agree on the draft compensation that would be involved in a Lee/Iguodala swap.
There are other players on expiring deals who might make sense as targets for Dallas, including a handful of veterans in Charlotte and Cleveland. The Mavs could also go after a player on a longer-term contract if they find a trade partner looking to create some extra 2020 cap flexibility.
If the Mavs don't move Lee before the season begins, he'll likely be involved in trade rumors again before the deadline.
Houston Rockets
How will the Rockets fill out their regular season roster?

No NBA team is currently carrying fewer players on non-guaranteed contracts than the Rockets. Only nine players on Houston's roster have fully guaranteed salaries for the 2019/20 season. The team is required to carry at least 14 players in the regular season, so that leaves five potential openings on the roster.
Gary Clark and Isaiah Hartenstein are in good position to claim two of those spots. The Rockets have spent some time and energy developing both players, and they each have a partial guarantee worth north of $700K.
Even if we assume Clark and Hartenstein are locks to make the team though, that leaves at least three openings available for the likes of Ben McLemore, Anthony Bennett, Chris Clemons, Michael Frazier, Shamorie Ponds, William McDowell-White, and perhaps Terrence Jones.
It will be interesting to see whether Houston leans toward keeping veterans like McLemore and Jones or youngsters like Ponds and Clemons. I think the former scenario is more likely, but it also wouldn't be at all surprising to see the team add a couple more players to the mix to compete for the regular season roster.
Memphis Grizzlies
What will the Grizzlies do with Andre Iguodala?

When the Grizzlies acquired Iguodala from the Warriors two months ago, he was essentially treated as a negative asset due to Golden State's cap situation — the Dubs had to attach a future first-round pick and cash in order to move him. However, the Grizzlies reportedly believe Iguodala can be moved for positive value.
It would be extremely impressive if Memphis' new management group could get a second first-round pick by flipping Iguodala, but that doesn't seem all that realistic unless the team is willing to take on some unfavorable multiyear money.
If the Grizzlies have an offer on the table that would net them a second-round pick and a cheaper expiring contract (Iguodala is on the books for about $17.2MM), they should probably jump on it. It's hard to imagine them getting better value at this time of year, and if Iguodala doesn't want to be there, hanging onto him into the season could create some friction.
A buyout remains possible if Memphis doesn't get any favorable trade offers and the former Finals MVP is willing to give up a chunk of his '19/20 salary, but it seems as if the club would like to avoid that outcome.
New Orleans Pelicans
How will the Pelicans respond to a potential season-ending injury for Darius Miller?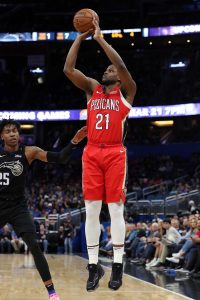 Less than two months after signing a lucrative new contract to remain in New Orleans, Miller suffered a ruptured Achilles tendon that will likely sideline him for the entire 2019/20 season. It's a tough blow for both the veteran forward and the Pelicans, who will have to lean even more heavily on newly-acquired J.J. Redick as the club's primary outside threat.
Now that they'll be without an important three-point shooter, we'll see if the Pelicans' approach to building the back of their roster is affected at all. Kenrich Williams may be more likely to earn one of the final two slots on the 15-man roster, given his potential to stretch the floor (he was a 39.5% three-point shooter in his final college season in 2017/18).
There are still some solid shooters on the free agent market too, if the Pelicans want to go in that direction. A veteran like Jodie Meeks or John Jenkins could be a fit, and it's worth noting that new head of basketball operations David Griffin has a history with former Cavs guard J.R. Smith, who remains unsigned.
San Antonio Spurs
Will Dejounte Murray or DeMar DeRozan sign contract extensions?

Currently, no one on the Spurs' roster has a guaranteed contract beyond 2020/21. That could change this offseason though if the team locks up Murray to a rookie scale extension or DeRozan to a new veteran deal.
Murray looks to me like the stronger candidate for an extension, but an August report indicated that San Antonio hasn't ruled out the possibility of offering DeRozan a maximum contract extension. The shooting guard would be eligible for a starting salary of up to about $33.3MM for the 2020/21 season, with annual raises increasing the value of the deal from there.
A new contract for Murray wouldn't be nearly that expensive, and could be an intriguing gamble for the Spurs if the young guard is open to signing at a relatively team-friendly rate. Before he tore his ACL last fall, Murray was viewed as one of the NBA's prime breakout candidates — San Antonio will be hoping that breakout season was just delayed by a year.
Photos courtesy of USA Today Sports Images.