Hoops Rumors is breaking down the 2019 offseason for all 30 NBA teams, revisiting the summer's free agent signings, trades, draft picks, departures, and more. We'll evaluate each team's moves from the last several months and look ahead to what the 2019/20 season holds for all 30 franchises. Today, we're focusing on the Oklahoma City Thunder.
Signings:
Standard contracts:

Justin Patton: Three years, minimum salary. First year partially guaranteed ($700K). Second year non-guaranteed. Third-year team option. Signed using mid-level exception.
Mike Muscala: Two years, minimum salary. Second-year player option. Signed using minimum salary exception.
Nerlens Noel: One year, minimum salary. Re-signed using minimum salary exception.

Two-way contracts:
Non-guaranteed camp contracts:
Trades:
Draft picks:
1-23: Darius Bazley — Signed to rookie contract.
Draft-and-stash signings:
Devon Hall (2018 draft; No. 53 pick) — Signed to two-way contract.
Departing players:
Other offseason news:
Lost assistant coaches Darko Rajakovic, Bob Beyer, and Mark Bryant.
Hired Brian Keefe, David Akinyooye, Dave Bliss, Mark Daigneault, and Mike Wilks as assistant coaches.
Salary cap situation:
Remained over the cap.
Over tax line by approximately $921K.
Carrying approximately $132.46MM in guaranteed salary.
$4.1MM of taxpayer mid-level exception still available ($1.62MM used on Justin Patton).
---
Story of the summer:
In a span of one week in July, the Thunder's long-term outlook was flipped on its head, due primarily to a free agency decision made by a player who was neither leaving nor joining the franchise: Kawhi Leonard.
When the free agent period opened on June 30, the Thunder immediately pursued and agreed to deals with low-cost veterans like Mike Muscala and Alec Burks, a signal that the club was focused on filling out its roster with complementary role players around its stars. However, around that same time, Leonard – the top free agent on the market – was convincing Thunder forward Paul George to request a trade to the Clippers, which would allow the two superstars to team up in their hometown of Los Angeles.
The Thunder, presumably recognizing that this was their best chance to maximize George's value before he went public with his desire to leave Oklahoma City, acquiesced to his trade demand and extracted a massive haul from the Clippers.
At that point, reloading around Russell Westbrook was a still a possibility, but with so many free agents and trade targets already off the market, it would have been a tall task for OKC to acquire the pieces necessary to contend in 2019/20.
Instead, general manager Sam Presti and the front office dove headfirst into the rebuild, acquiring several more first-round draft picks by sending Westbrook to Houston and forward Jerami Grant to Denver. However, that was about as far as the Thunder could get on the trade market, since veterans like Chris Paul and Steven Adams have oversized contracts that will make them difficult to move for positive value.
That leaves the club in a tough spot. With players like Paul, Adams, Danilo Gallinari, and Shai Gilgeous-Alexander leading the way, this is a roster capable of winning some games. But the best thing for the Thunder's rebuild might be to slide even further down the standings in order to secure a top pick in next year's draft.
It will be fascinating to see if the Thunder are aggressive in their efforts to further shake up their roster and launch a genuine, full-scale rebuild over the course of the 2019/20 season. Given the veteran talent already on the roster and all the assets the club could dangle in search of upgrades, the front office may feel as if fully bottoming out is unnecessary and instead opt for a brief retooling period.
Key offseason losses:
It's hard to know where to start here. On one hand, George was a top-three MVP finalist in 2018/19 after emerging as one of the NBA's very best two-way players. He's a fearsome perimeter defender who averaged a league-high 2.2 steals per game last season and is often tasked with guarding an opponent's top scorer.
George is also an elite scorer himself, posting a career-high 28.0 PPG with 292 three-pointers, the fifth-best single-season total in NBA history. He even showed off his play-making skills for the Thunder, matching his career high with 4.1 APG.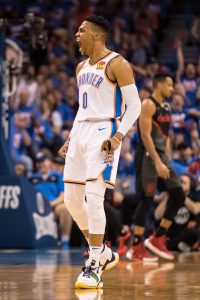 Somehow though, George may not have been the most difficult loss for the Thunder this summer. While his two-year stint in Oklahoma City was impressive, it pales in comparison to Westbrook's 11-year run with the franchise, which included eight All-NBA nods. A longtime fan favorite in OKC, Westbrook's legend only grew when he signed a contract extension, won an MVP award, and improbably averaged a triple-double for three straight years following Kevin Durant's departure in 2016.
Following George's move to L.A., Westbrook reportedly expressed interest in a trade, but it was hard to blame him at that point, and it won't be held against him — he'll be known in Oklahoma City as the star who stayed, while KD will be remembered as the one who left.
Westbrook has taken some criticism in recent years for his poor shooting numbers and his tendency to dominate the ball, and it's fair to wonder if the Thunder's offense will look a little looser and more free-flowing now that he's gone. Still, his willingness to relentlessly attack his man and get to the net put immense pressure on opposing defenses on a nightly basis and will be hard to replicate.
For some other teams, losing a player like Grant would be the top story of the summer, but for the Thunder, he's almost an afterthought. The team did well to get a first-round pick – even a late one – for him, but Grant's contributions shouldn't be underrated. The 25-year-old emerged last season as a versatile frontcourt player who could guard multiple positions and knocked down 39.2% of his three-point attempts.
None of the other departing Thunder players will be missed nearly as much as those three. Raymond Felton was approaching the end of the line last season and health issues prevented Markieff Morris from being his usual productive self down the stretch.
Patrick Patterson, who was signed in 2017 to be OKC's go-to stretch four, never really produced consistently like the team had hoped; he was bought out this summer.
Key offseason additions:
Gilgeous-Alexander was one of the most impressive first-year players in the NBA last season, substantially increasing his stock over the course of the year and narrowly missing a spot on the All-NBA First Team. Even though the Thunder didn't necessarily want to trade George, acquiring SGA in the deal was a big win.
It's possible the young point guard will even end up being better than any player drafted with all those first-round picks OKC acquired from the Clippers. One former executive told Chris Crouse of Hoops Rumors in May that Gilgeous-Alexander would have been a strong candidate for the No. 2 pick behind Zion Williamson if he were in the 2019 draft class.
Getting Gallinari from the Clippers was a nice bonus too. His main purpose in the deal was to be a big-money expiring contract for matching purposes, but the Italian forward is coming off perhaps the best season of his 10-year NBA career. He averaged 19.8 PPG on .463/.433/.904 shooting in 68 games. Unfortunately, those 68 games were the most he has played in a single season since 2012/13. Health is always a concern for Gallinari. If he stays off the injured list though, there's no reason he shouldn't have another big year in 2019/20.
Gallinari and Paul will both be mentioned in trade rumors up until the deadline – or until they're moved – but as long as CP3 remains under contract with the Thunder, he'll be the floor general on offense and a mentor for SGA. The future Hall-of-Famer isn't the same player at age 34 that he was in his prime, but he was at his best last season in Houston when he wasn't sharing the floor – and the ball – with James Harden. He'll be motivated to prove that he's still an impact player and that he still has value, even on a pricey three-year, $124MM contract.
Muscala got the full-court press from the Thunder front office early in the free agent period when they viewed him as one of the top priorities of the summer, an idea that seemed somewhat comical a few days later. He'll look to help the team space the floor on offense.
Finally, the Thunder made an interesting choice with their first-round pick, nabbing former New Balance intern Darius Bazley, who took an unusual path to the league. Given how little we saw of Bazley leading up to the draft, it's hard to predict what sort of player he can become, but if he delivers on his potential, he'll immediately become one of the key long-term building blocks for the organization.
Outlook for 2019/20:
There's enough talent on this Thunder roster for the team to be competitive this season. However, there are some depth concerns, and some of the team's talent overlaps — for instance, three of the club's best players are point guards (Paul, Gilgeous-Alexander, and Dennis Schroder). Plus, if the front office moves another veteran or two, a comfortable lottery finish is all but assured.
With upwards of eight or nine extra first-round picks in hand over the next seven years, the long-term future in Oklahoma City looks promising — or at least as promising as is realistically possible after losing two All-NBA players. But it's hard to figure out what the Thunder's short-term future looks like until we get a sense of how long players Paul, Gallinari, and Adams will remain in OKC.
Salary information from Basketball Insiders was used in the creation of this post. Photos courtesy of USA Today Sports Images.