Hoops Rumors is breaking down the 2019 offseason for all 30 NBA teams, revisiting the summer's free agent signings, trades, draft picks, departures, and more. We'll evaluate each team's moves from the last several months and look ahead to what the 2019/20 season holds for all 30 franchises. Today, we're focusing on the Orlando Magic.
Signings:
Standard contracts:
Two-way contracts:
Non-guaranteed camp contracts:
Trades:
Acquired the Lakers' 2020 second-round pick and cash ($2,226,778) from the Lakers in exchange for the draft rights to Talen Horton-Tucker (No. 46 pick).
Draft picks:
Departing players:
Other offseason news:
Salary cap situation:
Remained over the cap.
Hard-capped.
Carrying approximately $128.83MM in guaranteed salary.
Full bi-annual exception ($3.62MM) still available.
---
Story of the summer:
After enduring six consecutive seasons of 47+ losses, the Magic turned things around in 2018/19. Fueled by one of the NBA's best defenses, Orlando finished the season on a 22-9 run to claim the seventh seed in the Eastern Conference.
While it was encouraging step for the franchise, it's not as if Orlando was a serious contender once the playoffs arrived. So it was somewhat surprising when the Magic essentially doubled down on their current roster this summer, locking up Nikola Vucevic and Terrence Ross to $100MM and $50MM contracts, respectively, and re-signing role players like Khem Birch and Michael Carter-Williams.
The Magic's approach to the offseason could be interpreted as a sign that they didn't have enough confidence in their young players to let go of their veterans. It was widely speculated, for instance, that picking Mohamed Bamba with the No. 6 overall pick in 2018 would help pave the way for Orlando to let Vucevic walk. Instead, the team gave its All-Star center a four-year deal worth $25MM annually, creating some uncertainty about where Bamba stands.
But there's another way to interpret the Magic's roster moves and what they mean for the team's young players. After all, the team wasn't willing to go all-in on a roster that won 42 games in the hopes that it will produce more 42-win seasons — Orlando's front office thinks this group is capable of getting better.
It's hard to imagine vets like Vucevic and Ross increasing their production much beyond what they're providing now, so that internal improvement will have to come from the team's young players. Bamba can get better. So can forwards Jonathan Isaac and Aaron Gordon. And if the Magic can get anything out of former No. 1 overall pick Markelle Fultz, that'd just be a bonus.
It's fair to question how the Magic will handle their rotation if all those youngsters prove they're capable of taking on major roles, but that's the kind of good problem that the team would welcome. For now, Orlando's veterans should help increase the club's floor, while the ongoing development of the young players will determine how high its ceiling can be.
Key offseason losses:
The Magic's roster arguably underwent the fewest changes of any NBA team's this offseason. Technically, the team did lose one rotation player, but Jerian Grant had been removed from the backup point guard job by the halfway point of the 2019/20, so that hardly counts. Grant, who shot just 39.2% from the field through December last season, hasn't caught on with a new NBA team as a free agent.
The other two departures from the NBA roster were Jarell Martin and Timofey Mozgov. Martin appeared in 42 games last season, but mostly played in garbage time. As for Mozgov, he had a far greater impact on the cap than on the court for Orlando. While the veteran center didn't play a single game as a member of the Magic, the club was forced to stretch his 2019/20 cap hit to stay below the luxury-tax line, and will carry a $5.57MM annual charge for Mozgov through the 2021/22 season.
Key offseason additions:
Only two NBA teams used the full, non-taxpayer mid-level exception to sign a single player this offseason. Of those two teams, Orlando was the only one that also gave its MLE signee the maximum annual raise (5%), resulting in a three-year deal worth north of $29MM for Al-Farouq Aminu.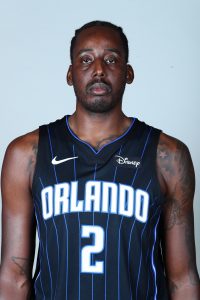 In theory, the Magic's decision to use its mid-level exception to bring in a reliable veteran free agent was a good one. After all, with all the club's top free agents getting new deals, the MLE was the best tool Orlando had available to upgrade its roster immediately.
Still, zeroing in on Aminu as the player to use that exception on is an interesting decision. I'm withholding judgment until we see how it works, but the Magic's strength last season was their defense — their weakness was offensive shot creation and play-making. In Aminu, Orlando gets a versatile defender whose offensive game is limited, meaning the club is essentially doubling down on its strengths without necessarily addressing its offensive limitations.
Aminu can at least make three-point shots, having knocked down 35.3% of his attempts over the last four years in Portland. But if he's spending time in the frontcourt next to players like Gordon or Isaac, those guys will have to look for their offense a little more often.
The Magic didn't really make any other additions to their roster this summer, as 16th overall pick Chuma Okeke is still recovering from an ACL tear and isn't expected to sign his first NBA contract until the 2020 offseason. However, we can probably count Fultz as a new acquisition, since he has yet to make his NBA debut.
Even if the former Sixer stays healthy, I think there will be some growing pains in what would be his first full season. But the Magic won't ask him to do a lot, and he's capable of impacting a game with his defense and his ability to get to the rim, even if his jump shot isn't completely fixed. A healthy and effective Fultz could go a long way toward giving this organization some of the play-making it desperately needs on offense.
Outlook for 2019/20:
Based on how similar this Magic team looks to last season's squad, their outlook for 2019/20 essentially comes down to two questions. Do you believe in what Orlando did in the second half last season? And do you believe in this roster's ability to improve from within?
While I don't expect the Magic to maintain the 23-9 pace they played at to finish last season, I'm a believer in their ability to be one of the NBA's best defenses again. And I'm a believer in the upside of players like Gordon and Isaac.
Orlando probably can't become a legit contender without some added offensive punch, but this looks to me like a team that's fully capable of winning more games than it did a year ago and making it back to the playoffs in the East.
Salary information from Basketball Insiders was used in the creation of this post. Photos courtesy of USA Today Sports Images.