Hoops Rumors is breaking down the 2019 offseason for all 30 NBA teams, revisiting the summer's free agent signings, trades, draft picks, departures, and more. We'll evaluate each team's moves from the last several months and look ahead to what the 2019/20 season holds for all 30 franchises. Today, we're focusing on the Sacramento Kings.
Signings:
Standard contracts:
Two-way contracts:
Non-guaranteed camp contracts:
Trades:
Acquired the draft rights to Kyle Guy (No. 55 pick) and cash ($1MM) from the Knicks in exchange for the draft rights to Ignas Brazdeikis (No. 47 pick).
Draft picks:
2-40: Justin James — Signed to three-year, minimum salary contract. Third year non-guaranteed. Signed using cap room.
2-55: Kyle Guy — Signed to two-way contract.
2-60: Vanja Marinkovic — Will play overseas.
Departing players:
Other offseason news:
Salary cap situation:
Used cap space; now over the cap.
Carrying approximately $112.46MM in guaranteed salary.
No exceptions available.
---
Story of the summer:
No lottery team had a more encouraging 2018/19 season than the Kings, whose 39 wins were the franchise's highest total since the 2005/06 campaign. Despite ultimately falling nine games short of a playoff spot, Sacramento was in contention for the No. 8 seed for most of the year and saw several encouraging signs from its young roster.
Buddy Hield made a persuasive case to be considered the NBA's best high-volume shooter outside of Golden State (his 278 made three-pointers in a single season ranked third all-time among players not named Stephen Curry). Marvin Bagley III showed why the Kings' decision to pass on Luka Doncic might not go down as a major gaffe. Harry Giles got healthy and made his NBA debut. And most importantly, De'Aaron Fox enjoyed a breakout season in which he flashed All-NBA upside.
On the heels of that promising season, the Kings entered the summer of 2019 with a ton of cap flexibility. However, the team also recognized that keeping its young core intact would mean retaining some of that cap flexibility for the next year or two, when players like Hield, Bogdanovic, and Fox are up for new contracts.
As such, the Kings didn't go all-in on a single maximum-salary player, and mostly avoided long-term investments. Although they signed four veteran free agents to contracts exceeding $10MM per year, only one of those four – Harrison Barnes – received more than two fully guaranteed seasons.
That approach to summer spending was probably a necessary one — after all, superstar free agents didn't enter the offseason with Sacramento atop their wish list. But it was also a savvy one. Those veteran signings could help the Kings take another step forward in 2019/20 without compromising their ability to retain the players who are most responsible for helping take them take their first big step forward in '18/19.
Key offseason losses:
Willie Cauley-Stein started all but one game for the Kings last season, averaging 11.9 PPG, 8.4 RPG, and 2.4 APG. A 25-year-old center posting those numbers would normally be the type of player a young, up-and-coming club would want to keep around, but both the team and player seemed eager for a fresh start by the time Cauley-Stein reached free agency.
Sacramento did tender Cauley-Stein a $6.3MM qualifying offer before the free agent period got underway, making him restricted and suggesting the team was willing to pay a modest price to keep him around. However, the Kings later withdrew that QO and Cauley-Stein accepted a deal worth $4.5MM over two years from the Warriors, an indication that he wanted a change of scenery more than he wanted to maximize his payday.
None of the Kings' other departures represented a significant loss. Kosta Koufos spent the last four years with the organization, but saw his minutes cut back substantially in 2018/19 and will play in Russia next season.
Midseason addition Corey Brewer injected some energy off the bench to the Kings' rotation, but was merely a stopgap solution on the wing. Alec Burks, also acquired during the season, played even less than Brewer and didn't factor into Sacramento's future plans.
The Kings' decision to waive guard Frank Mason was a minor surprise, since he was the 34th overall pick just two years ago. However, he took a step back in his sophomore year, shooting a dismal 14-of-64 (21.9%) from beyond the three-point arc, and no longer had a place in the club's increasingly crowded backcourt.
Key offseason additions: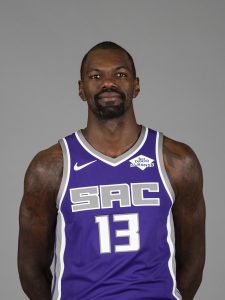 During the last week of June, ESPN's Zach Lowe referred to Dewayne Dedmon as "sneakily the most coveted under-the-radar free agent in the league." The price the Kings ultimately paid to land the veteran center ($40MM for three years, albeit with a non-guaranteed third season) suggests that he wasn't flying too far under the radar after all. But that doesn't mean he's not a solid addition to Sacramento's frontcourt.
While Dedmon's numbers don't jump off the page, his skill set is more varied now than it was in even two or three years ago — in Atlanta last season, he averaged more than one block, one steal, and one three-pointer per game.
In Cory Joseph, the Kings added a backup veteran point guard who showed in Indiana that he could reliably run a second unit and be a good fit alongside his team's starting point guard. The price – three years, $37MM – was a little higher than you'd like, but Joseph is solid enough to assume the reins if Fox has to miss any time. And I'd expect to see Sacramento use some lineups that feature both Fox and Joseph.
The Kings added depth up front by inking veteran free agents Trevor Ariza and Richaun Holmes. At age 34, Ariza may not be the sort of invaluable three-and-D piece he once was, and it's unclear how much Holmes will play in a frontcourt that already features Bagley, Giles, Dedmon, and Nemanja Bjelica. Still, Sacramento shouldn't have depth issues this season with guys like Ariza and Holmes coming off the bench.
Of course, the Kings made a notable change off the court this spring too, firing head coach Dave Joerger and hiring Luke Walton to take his place. Joerger improved the team's record by 12 games last season and Walton faced a sexual assault allegation almost immediately after he was hired by Sacramento, so it's tempting to look at that coaching change as an unforced error by one of the NBA's most reliably dysfunctional franchises.
However, by all accounts, Joerger rubbed some executives and players the wrong way in Sacramento. And Walton, who has been cleared by the league in their investigation of those sexual assault allegations, seemed to have the young Lakers on the right track before his job description changed upon LeBron James' arrival last season. It's fair to withhold judgment and see how this change works out for the Kings before criticizing them for it.
Outlook for 2019/20:
When a young, exciting team like the Kings makes the leap from bottom-five team in the conference to borderline playoff contender, it's tempting to pencil them in for another jump the following year. After all, young players like Fox and Bagley should only get better, and the veterans added by the Kings in free agency will help create a deeper and more stable rotation in 2019/20.
I'd like to see the Kings make that next jump and earn a playoff spot this spring, but a young club's climb up the conference standings isn't always linear. It won't be easy to crack the top eight in the West this season, and if Sacramento once again falls outside that group, the season shouldn't be considered a failure.
Fox and Bagley are still 21 and 20 years old, respectively, and as long as they continue to improve this season, there's plenty of reason for long-term optimism in Sacramento, no matter how the short-term battle to snap the team's 13-year postseason drought plays out.
Salary information from Basketball Insiders was used in the creation of this post. Photos courtesy of USA Today Sports Images.