Hoops Rumors is breaking down the 2019 offseason for all 30 NBA teams, revisiting the summer's free agent signings, trades, draft picks, departures, and more. We'll evaluate each team's moves from the last several months and look ahead to what the 2019/20 season holds for all 30 franchises. Today, we're focusing on the San Antonio Spurs.
Signings:
Standard contracts:

Rudy Gay: Two years, $29MM. Re-signed using Early Bird rights.
DeMarre Carroll: Three years, $20.65MM. Third year partially guaranteed ($1.35MM). Acquired via sign-and-trade.
Trey Lyles: Two years, $11MM. Signed using mid-level exception.

Two-way contracts:
Non-guaranteed camp contracts:
Trades:
Acquired DeMarre Carroll (via sign-and-trade) in a three-team trade with the Wizards and Nets in exchange for Davis Bertans (to Wizards) and the draft rights to Nemanja Dangubic (to Nets).
Draft picks:
1-19: Luka Samanic — Signed to rookie contract.
1-29: Keldon Johnson — Signed to rookie contract.
2-49: Quinndary Weatherspoon — Signed to two-way contract.
Departing players:
Other offseason news:
Salary cap situation:
Remained over the cap.
Hard-capped.
Carrying approximately $123.81MM in guaranteed salary.
$3.76MM of mid-level exception still available (used $5.5MM on Trey Lyles).
---
Story of the summer:
The last time the Spurs won the NBA Finals in 2014, their roster featured Tim Duncan, Tony Parker, Manu Ginobili, and Kawhi Leonard. By the time the 2018/19 season got underway, none of those players were still Spurs — Duncan and Ginobili had retired, while Parker and Leonard were playing for new teams.
Despite the exodus of future Hall-of-Famers, the Spurs have managed to keep extending their record-setting streak of postseason appearances. San Antonio has now appeared in the playoffs in 22 consecutive years – and 29 of the last 30 – as the front office has displayed an impressive ability to consistently retool its roster while Gregg Popovich continues to get the most out of every group.
The upside of the Spurs' current roster may be limited. The team's 48 and 47 wins in the last two seasons are its lowest marks of the last 20 years, and DeMar DeRozan and LaMarcus Aldridge are players who thrive in the mid-range, making them odd fits in a modern NBA which prioritizes outside shooting.
However, the Spurs are quietly accumulating young talent around their de facto stars, with Dejounte Murray and Derrick White on the verge of breakout seasons, Lonnie Walker primed for a larger role, and two more first-round picks (Luka Samanic and Keldon Johnson) joining the mix. The new core the Spurs are building might be capable of keeping the team in the playoff picture even if and when DeRozan and Aldridge move on.
For now, those veteran stars are still the focal points of San Antonio's attack. But ongoing development from the team's up-and-coming youngsters and contributions from a handful of solid role players will be crucial as the club looks to make its 23rd consecutive playoff appearance.
Key offseason losses:
The Spurs' biggest offseason loss was one that didn't need to happen. When Markieff Morris reached an agreement to sign a two-year, $19MM deal with San Antonio using the team's mid level exception, the front office had to find a way to acquire DeMarre Carroll – who had already agreed to a two-year deal – without using its MLE.
The Spurs' solution? Tacking a third year onto Carroll's contract to make him eligible to be signed-and-traded, then sending Davis Bertans to the Wizards in a three-team deal that allowed them to match Carroll's incoming salary. However, after that trade was completed, Morris pulled out of his agreed-upon deal with San Antonio, meaning the team essentially moved Bertans for nothing.
The Latvian power forward won't be the difference between the Spurs competing or not competing for a title this season, but he had emerged as a key contributor off the bench in 2018/19, averaging 8.0 PPG with a .429 3PT% in 21.5 minutes per contest. Having a frontcourt player with the ability to let it fly from just about anywhere on the court was a huge boon to the Spurs' second unit, so it's no surprise that Popovich expressed frustration with how that situation played out, telling reporters that "we hated losing" Bertans.
The Spurs' other departing players were lesser contributors. Dante Cunningham and Quincy Pondexter appeared in 64 and 53 games, respectively, but didn't make much of an impact and have yet to find new NBA homes. Donatas Motiejunas also finished the season in San Antonio, but didn't play much and returned overseas this summer.
Key offseason additions: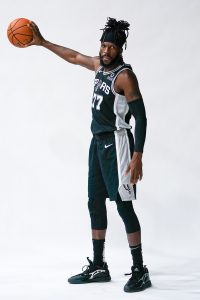 As noted above, Carroll was one of the only veteran additions made by the Spurs this offseason, joining the team in a sign-and-trade deal for Bertans. Carroll may end up playing a similar role to the one Bertans did, since power forward has become his primary position in recent years.
The 33-year-old won't knock down three-pointers with quite the same accuracy as Bertans, but he has a career rate of 36.0% from beyond the arc and he has attempted at least 4.3 per game in each of the last five seasons. He also provides a little more versatility on the defensive end of the court, giving the Spurs another option to guard wings and combo forwards.
Since the Spurs didn't end up needing their mid-level exception to sign Carroll (or Morris), the team used more than half of it to sign Trey Lyles, another forward who can help fill the roles that Bertans and Cunningham occupied.
Lyles had a breakout season in 2017/18 in Denver, averaging 9.9 PPG with a .381 3PT%, but he took a major step back in 2018/19, with those numbers dipping to 8.5 PPG and an ugly .255 3PT%. San Antonio will obviously be hoping he can recapture his form from two years ago.
While the Spurs don't typically ask their rookies to play big minutes, the arrivals of first-round picks Samanic and Johnson are still worth noting. I expect they'll see plenty of time with the Austin Spurs, San Antonio's G League affiliate.
Finally, even though he's not technically a new addition to the roster, Murray may end up being the most important "acquisition" for the Spurs this offseason. The young guard appeared to be on the verge of taking a big step forward a year ago, but a torn ACL prematurely ended his season. Given how excited the Spurs were about him in the fall of 2018, it'll be interesting to see if he can emerge as one of the club's best players this season or if it takes him a little extra time to get back up to speed.
Outlook for 2019/20:
In a competitive Western Conference, it has been tempting over the last couple years to predict that the Spurs' lengthy postseason streak will come to an end. However, I wouldn't bet on that happening in 2019/20.
DeRozan and Aldridge are still capable of leading the way, and the Spurs have compiled a growing collection of reliable supporting players to fill out the roster around them. This club is deeper and more talented than it may appear on the surface, and as long as Popovich remains on the sidelines – and he's not talking as if this will be his final season – the Spurs are always capable of outperforming preseason expectations.
Salary information from Basketball Insiders was used in the creation of this post. Photos courtesy of USA Today Sports Images.