5:03pm: Hield's extension is now official, according to a press release issued by the Kings.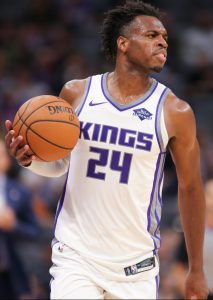 "Buddy has made tremendous growth each season since joining the team and we are thrilled that he will remain a King as we continue to build an exciting future here in Sacramento," general manager Vlade Divac said in a statement. "He has quickly established himself as an elite shooter in the league and is an important part of our young, dynamic core."
11:24am: The Kings and shooting guard Buddy Hield have reached an agreement on a four-year rookie scale extension worth $86MM in guaranteed money, reports Sam Amick of The Athletic (Twitter link). According to Amick, the deal will feature another $20MM in incentives. Carmichael Dave of KHTK Sports 1140 (Twitter link) first reported that the two sides were expected to finalize an agreement in advance of today's deadline.
ESPN's Adrian Wojnarowski tweets that the four-year deal is worth $94MM and can reach up to $106MM, which suggests that perhaps $8MM of that $20MM in bonus money is tied to "likely" incentives rather than "unlikely" incentives, though we'll have to wait for the full details.
A source tells Amick (Twitter link) that Hield's incentives will be both team- and player-based, with All-Star berths and NBA Finals appearances among the ways the sharpshooter can maximize his earnings. Woj adds (via Twitter) that there will be "reachable" incentives related to three-point shooting.
Hield's salaries will also descend annually, per Amick. Like Harrison Barnes' new four-year, $85MM contract with the Kings, Hield's deal will start in the $24MM range and decline to $18MM+ by year four. That will allow the franchise to maximize its cap flexibility in later years, when pricey new deals for De'Aaron Fox and Marvin Bagley could go into effect.
Hield's four-year extension won't feature any team or player options, notes Chris Haynes of Yahoo Sports (Twitter link).
Hield enjoyed an underrated breakout season in 2018/19, establishing new career highs in PPG (20.7), RPG (5.0), APG (2.5), and several other categories. He increased his productivity while maintaining his impressive efficiency, converting 42.7% of 7.9 three-point attempts per game.
His 278 three-pointers in '18/19 placed him seventh on the NBA's all-time list for threes in a single season. Only Stephen Curry (four times), James Harden (2018/19), and Paul George (2018/19) have ever made more outside shots in a season.
Despite Hield's impressive ascent, he and the Kings had a gap to bridge in contract negotiations this fall as they attempted to get something done before the season and avoid having the former first-round pick become a restricted free agent next summer. Hield used increasingly escalating rhetoric in conversations with reporters, even hinting at a trade demand if he and the Kings couldn't work out a new long-term deal.
A recent report indicated that Hield was seeking $110MM over four years, while Sacramento was offering $90MM. While we don't know for sure that those numbers were accurate, the terms of his new deal suggest a compromise — at worst, he'll earn $86MM over four seasons, but that number could be significantly higher if he hits several of his bonus benchmarks.
If Hield had reached the open market in 2020, he would've been eligible for a four-year, maximum-salary offer sheet worth up to an estimated $124.7MM, based on the league's latest cap projections. However, he always seemed willing to accept less than the max from the Kings in order to avoid a year of uncertainty. Amick notes (via Twitter) that players and agents are also a little worried about the China situation negatively impacting the cap next year and beyond.
With another $24MM+ in guaranteed salary on their books for 2020/21, the Kings are extremely unlikely to be a major player in free agency next summer. And with Hield off the market, an already weak '20 free agent class looks even less intriguing.
Jaylen Brown (Celtics), Domantas Sabonis (Pacers), and Malik Beasley (Nuggets) are among the top extension-eligible players who still have until 6:00pm eastern time to sign new deals to avoid restricted free agency next year.
Photo courtesy of USA Today Sports Images.