As the Heat made their major roster moves in July, Kendrick Nunn's chances to secure a spot on the team's 15-man regular-season squad appeared to be in jeopardy. At that time, Nunn only had a $50K partial guarantee on his deal, and Miami's offseason maneuvers had imposed a $138.93MM hard cap on the team, leaving little breathing room below that cap.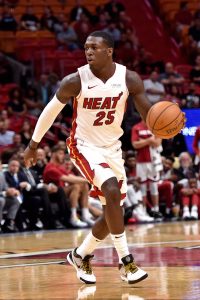 Without the flexibility to add a 15th man to their roster, the Heat would have to make the most of their other 14 roster spots. Presumably, that would mean carrying 14 players capable of playing real minutes, and it wasn't clear that an undrafted rookie such as Nunn fit that bill. Waiving him would only cost Miami $50K, and would give the club the flexibility to bring in a minimum-salary veteran who could contribute immediately.
However, the former Oakland University standout – who ranked second in the NCAA in scoring in 2017/18, behind only Trae Young – impressed the Heat in Summer League play. Nunn averaged 24.0 PPG in two Summer League games in Sacramento, then 21.0 PPG in four Las Vegas contests. When the team kept him under contract through August 1, allowing his partial guarantee to increase to $150K, it became clear that he was in position to earn that 14th and final roster spot.
Three months later, Nunn isn't just the Heat's 14th man — he's their leading scorer.
Through the first five games of his NBA career, the 24-year-old is averaging 22.4 PPG on .518/.484/1.000 shooting and has played a key role in Miami's 4-1 start. According to ESPN, he has scored more points in his first five NBA games than all but two players (Kevin Durant and Jerry Stackhouse) who have debuted in the last 25 years.
While Nunn almost certainly won't keep up this pace, he's no longer at risk of losing his roster spot, meaning his $1,416,852 minimum salary should become fully guaranteed in January. At that price, he could be one of the NBA's best bargains both this season and next, when he has a $1,663,861 non-guaranteed salary.
Assuming he plays out that contract, Nunn will be on track to become a restricted free agent during the summer of 2021 with two seasons' worth of NBA games under his belt. However, as cap expert Albert Nahmad pointed out earlier this week (via Twitter), Miami won't just have Early Bird rights on Nunn at that time. Because he signed his current contract with one day left in the 2018/19 regular season, he's credited with an extra year of service.
That means the Heat will have full Bird rights on Nunn by the time he's eligible for free agency, meaning they could offer him anything up to the max. With only his Early Bird rights, they would have been limited to making him an offer in the mid-level range, and would've opened the door to a potential back-loaded offer sheet like the one they were forced to match for Tyler Johnson in 2016.
After five games, it's far too early to say with any certainty that the Heat will even need that sort of financial flexibility to sign Nunn to his next contract. But if he continues to produce and increase his value, his current contract will make him an ideal asset for Miami to carry into 2021's free agent period. The Heat reportedly want to make a run at stars that summer and could maximize their cap space by keeping Nunn's minimum-salary cap hold on the books as they pursue top free agents. Once they've used up all their cap room, they could go over the cap to re-sign him.
Again, it's worth stressing that Nunn's hot streak likely won't last — he's not going to shoot .518/.484/1.000 all season. It's entirely possible that by the All-Star break, the Heat's investment won't look quite as savvy as it does now.
Still, ESPN's Zach Lowe says several clubs around the NBA are "kicking themselves" for not rolling the dice on Nunn. That group includes the Warriors, who had him on their G League roster for most of the 2018/19 season after waiving him last fall.
According to Lowe, some teams tried to entice Nunn earlier in the year by promising a training camp deal for this fall, but the Heat went a step further, signing him to a multiyear deal at the very end of the '18/19 season. That bet is paying off in a big way for Miami now.
Photo courtesy of USA Today Sports Images.