Over the course of the 2019/20 NBA season, up until February's trade deadline, we're keeping an eye on potential trade candidates from around the NBA, monitoring their value and exploring the likelihood that they'll be moved. Each of these looks at possible trade candidates focuses on a specific division, as we zero in on three players from that division.
The Northwest Division is primed for a potentially eventful 2020 trade deadline. The Thunder have veterans to shop. The Timberwolves want a point guard. The Nuggets have the pieces to put together a package for an impact player. And the Jazz and Trail Blazers may be looking to shake things up after up-and-down starts.
As we wait to see what these teams have in mind, let's take a closer look at three more potential trade candidates from around the Northwest:
Malik Beasley, SG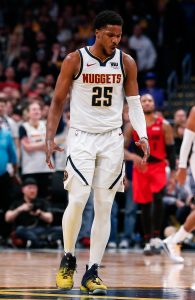 Denver Nuggets
$2.7MM cap hit; RFA in 2020

Beasley enjoyed a breakout season in 2018/19, boosting his scoring average from 3.2 PPG to 11.3 PPG and posting an impressive .474/.402/.848 shooting line as a key member of the Nuggets' rotation. After failing to come to terms on an extension with the club this fall, he has struggled out of the gate in 2019/20 and is no longer receiving consistent minutes on a deep Denver squad.
For teams in need of outside shooting help, Beasley – who is still making 41.1% of his outside attempts this season – may look like a tantalizing buy-low target. He'll be a restricted free agent next summer, so any team that wants to keep him beyond this season should have no problem doing so, assuming he doesn't receive an exorbitant offer sheet next July.
The Nuggets are in a position where it might make sense to consolidate their depth in a trade package if the right impact player is available. Such a deal, which could also open up some additional playing time for promising young forward Michael Porter Jr., may very well involve Beasley.
Danilo Gallinari, F
Oklahoma City Thunder
$22.6MM cap hit; UFA in 2020

Gallinari is one of the NBA's most obvious trade candidates this winter, and the only reason he wasn't included in our initial look at the Northwest last month is because the Thunder have an even more obvious trade candidate in Chris Paul.
Moving Gallinari appears more realistic than dealing CP3, since Gallinari's cap hit isn't quite as exorbitant and his contract is expiring. The challenge for Oklahoma City will be finding a trade partner in need of a scoring forward that has the contract(s) necessary to salary-match and a first-round pick – or a promising young prospect – to spare.
Portland, with Kent Bazemore's and Hassan Whiteside's expiring contracts, initially looked like an ideal fit, but the Trail Blazers have been talking as if they're looking ahead to future seasons rather than just focusing on this one, so Gallinari might not be near the top of their wish list. If that's the case, we'll see if OKC can find another team in position to make a deal work.
Dante Exum, G
Utah Jazz
$9.6MM cap hit; $9.6MM guaranteed salary in 2020/21; UFA in 2021

The Jazz have showed remarkable patience with Exum since selecting him fifth overall in the 2014 draft, but the Australian guard doesn't really seem any closer to being an impact player than he was five years ago. Utah hasn't given up on him yet, but at this point a change of scenery might be the best thing for the 24-year-old, especially if another team still believes in his upside.
Because his contract has another guaranteed year beyond 2019/20, Exum probably doesn't have positive trade value, but he'd make a good salary-matching piece if the Jazz try to make a roster upgrade — the only other mid-level type contract on the team's books belongs to Joe Ingles, who can't and won't be traded this season.
I'd expect Exum to finish the season in Utah, but he's worth keeping an eye on because of his cap hit.
Revisit the rest of our 2019/20 Trade Candidate series right here.
Photo courtesy of USA Today Sports Images.