Over the course of the 2019/20 NBA season, up until February's trade deadline, we're keeping an eye on potential trade candidates from around the NBA, monitoring their value and exploring the likelihood that they'll be moved. Each of these looks at possible trade candidates focuses on a specific division, as we zero in on three players from that division.
This is our third look this season at potential trade candidates in the Southeast, but it remains to be seen how the division's five teams will approach the trade deadline.
The Heat are in position to buy, but can't really take on any extra salary due to their hard cap. The Hawks and Wizards are lottery-bound, but might not have many valuable veteran trade chips to sell. The Magic and Hornets, meanwhile, are in a tight race for the No. 8 seed and could still go in either direction.
As we wait to see what the Southeast teams decide, here are three more possible trade candidates from out of the division:
Evan Fournier, G/F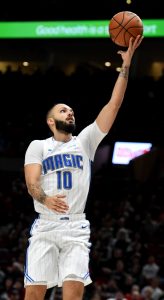 Orlando Magic
$17.2MM cap hit; $17.2MM player option for 2020/21

Fournier has been a solid contributor in Orlando for years, but he has taken his game to the next level so far in 2019/20. His 19.5 PPG and .417 3PT% would be career highs, despite the fact that his MPG (30.9) are as low as they've been since 2014/15.
Fournier's impressive production will create an interesting dilemma for the Magic. He's the team's most dynamic scorer, especially on the perimeter, and if he keeps playing this well, he'll almost certainly opt out at season's end for longer-term security. Will the Magic be willing to pay to keep him, like they did with Nikola Vucevic and Terrence Ross?
If the front office is at all uncertain about Fournier's long-term future in Orlando – or is simply growing concerned about the team's upside as currently constructed – it would make sense to see what sort of return he could bring back in a trade. While there's no indication so far that the Magic are seriously considering that possibility yet, executives around the NBA reportedly believe there's a chance Fournier will be moved this winter.
Justise Winslow, G/F
Miami Heat
$13MM cap hit; $13MM guaranteed salary in 2020/21; $13MM team option for 2021/22

The Heat like Winslow and won't simply attach him to a trade offer this winter as a sweetener. But it's hard to ignore the fact that he has only played in 10 games this season and Miami hasn't missed a beat, posting an 18-5 record in the games he has missed.
If the Heat do want to try to add an impact player in a trade before this year's deadline, Winslow is their most logical trade chip. Bam Adebayo and Tyler Herro are too valuable to move, and the team-friendly contracts for Kendrick Nunn and Duncan Robinson make them keepers too. Miami wouldn't hesitate to offer a first-round pick for the right player, but due to previous deals, none of the club's next five first-rounders are trade-eligible.
Winslow, who is still just 23 years old, is a rare asset. His upside gives him the sort of positive trade value that other high-priced veterans like Dion Waiters and James Johnson don't have, and his $13MM cap hit makes him the sort of useful salary-matching piece that many contending teams lack.
The Heat would probably prefer to keep Winslow if they can, but if they want to upgrade their roster this winter, he might represent the key to doing so.
Marvin Williams, F
Charlotte Hornets
$15MM cap hit; UFA in 2020

A three-and-D veteran like Williams would be an ideal fit for a number of playoff-bound clubs, and a report earlier this month indicated that multiple teams were indeed keeping an eye on the Hornets' forward.
While Williams' playing time is down this year, he's shooting as well as ever, with a career-best 58.3% on two-pointers to go along with 39.8% on three-pointers. And his expiring contract makes him a logical target for teams that prefer to keep future cap sheets clear.
There are just two obstacles standing in the way of a potential deal. For one, Williams' $15MM cap charge may complicate matters — a non-taxpaying team would need $10MM in outgoing salary to match it, while a taxpaying team would have to send out even more. The second roadblock? The fact that Charlotte remains very much in the playoff hunt.
Despite their unimpressive 13-22 record, the Hornets are just two games out of the No. 8 seed in the East, so it's a bit early to throw in the towel. I think the front office would still be open to moving Williams for the right offer even if the eighth seed is within reach, but a deal seems more likely if Charlotte slides further down the standings.
Revisit the rest of our 2019/20 Trade Candidate series right here.
Photo courtesy of USA Today Sports Images.