Blake Griffin has undergone an arthroscopic debridement of his left knee, the Pistons announced today in a press release. According to the team, Griffin will go through an "extended" rehab process, with no timetable set for his return.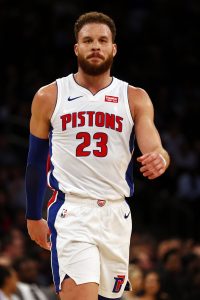 The announcement from the club comes just one day after news surfaced that Griffin was visiting a specialist in Los Angeles and considering season-ending surgery. It's unclear if the procedure he underwent today is the same season-ending one he was reportedly weighing on Monday, but it seems safe to assume he won't be back in Detroit's lineup anytime soon.
If it is indeed a long-term injury for Griffin, it may help put the nail in the coffin of the Pistons' playoff hopes for 2020. After narrowly earning the No. 8 seed a year ago, the team sits at 11th in the Eastern Conference with a 13-24 record. While Griffin has struggled in the 18 games he has played this season, averaging just 15.5 PPG and 4.7 RPG on 35.2% shooting, Detroit was close to .500 (8-10) with him in the lineup. The club has won just five of 19 games without Griffin.
[RELATED: Pistons discussing Andre Drummond with Hawks, others]
Griffin's surgery increases the likelihood that the Pistons will be sellers leading up to next month's trade deadline. Andre Drummond is the club's biggest trade chip, and Marc Stein of The New York Times (Twitter link) says one source briefed on Detroit's efforts to move the veteran center expressed confidence that a trade will be made by February 6.
As for Griffin, he remains under contract for two more years beyond 2019/20, with a guaranteed $36.8MM cap charge for '20/21 and a '21/22 player option worth nearly $39MM. Although the six-time All-Star seems unlikely to go anywhere anytime soon, Detroit could consider moving him in the offseason if he gets healthy and the franchise wants to launch a full-fledged rebuild.
Photo courtesy of USA Today Sports Images.