3:42pm: The Celtics, Mavericks, and Raptors have also registered interest in Drummond, tweets Vincent Goodwill of Yahoo Sports. Goodwill notes that Drummond has relationships with Dallas big man Kristaps Porzingis and Toronto point guard Kyle Lowry, while Chris Haynes of Yahoo Sports adds (via Twitter) that the big man is close with Hawks star Trae Young.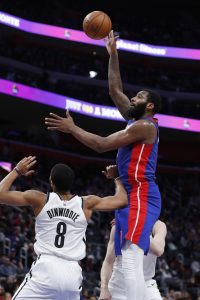 2:05pm: The Pistons and Hawks have engaged in talks on a possible trade involving center Andre Drummond, reports ESPN's Adrian Wojnarowski. According to Wojnarowski, nothing is imminent, but Detroit is discussing Drummond with multiple teams and there's an increasing belief that the big man will be moved before next month's trade deadline.
Drummond, 26, is enjoying perhaps the best season of his NBA career so far, with career highs in PPG (17.6), BPG (1.8), and SPG (2.0) to go along with a league-leading 15.8 RPG. Despite his strong play though, the Pistons are out of the playoff picture — their 12-23 record places them 11th in the Eastern Conference.
Facing a potential lottery finish and a contract year for Drummond, who will likely decline his $28.75MM option for 2020/21, it makes sense that the Pistons would consider their options. Securing a strong return for their starting center would be a more favorable outcome than losing him for nothing in the summer or overpaying to lock him up to a long-term contract.
As we relayed earlier today, Pistons owner Tom Gores admitted that his struggling team may need to consider taking a step back rather than remaining in win-now mode, and the Hawks are in the market for a veteran center. The two teams could be a good match, especially since Atlanta has extra draft picks available and a handful of expiring contracts that could be used for salary-matching purposes. Chandler Parsons's expiring $25.1MM deal would be the most logical trade chip to match Drummond's $27.09MM cap hit.
According to Vince Ellis of The Detroit Free Press (via Twitter), a package of one or more expiring contracts and a protected 2020 first-round pick is one option being discussed. It's not clear if the Hawks would be willing to make such an offer or if the Pistons would accept it.
If the Hawks were to acquire Drummond during the season, they'd be in position to re-sign him in July using his Bird rights. The club has plenty of cap flexibility going forward, so there would be no risk of going into tax territory even with a lucrative new deal for Drummond. Atlanta would then be in position to build around a frontcourt of Drummond and John Collins, with Trae Young running the show.
Of course, as Woj notes, the Hawks aren't the only team talking to Detroit about a potential trade involving Drummond, so the Pistons are unlikely to rush a deal unless they get an offer they really like. The club still has nearly five weeks until the February 6 trade deadline arrives.
Photo courtesy of USA Today Sports Images.