January 15 is the last day that NBA teams can sign a player to a two-way contract this season. After that date, teams can still waive two-way players or promote them to their 15-man rosters, but they can't bring aboard new players on two-way contracts as replacements.
[RELATED: 2019/20 NBA Two-Way Contract Tracker]
With that deadline looming, we could get a mini-flurry of activity related to two-way deals this week. While it's impossible to predict which teams will simply choose to replace one two-way player with a new one, there are a few specific situations worth keeping an eye on, based on certain players' performances or teams' roster situations.
Here are a few two-way contract situations to watch this week:
The Suns, Cavaliers, and Heat
The Suns and Cavaliers are currently the only two teams not carrying a pair of players on two-way contracts, while the Heat are expected to join them tomorrow.
Phoenix has only had one player (Jared Harper) on a two-way contract all season long, but it would still be a surprise not to see the team add a second two-way player by Wednesday. Cleveland, meanwhile, just waived Levi Randolph on Sunday, while Miami is poised to promote Chris Silva to the 15-man roster, opening up a two-way slot for each club.
Damion Lee / Ky Bowman (Warriors)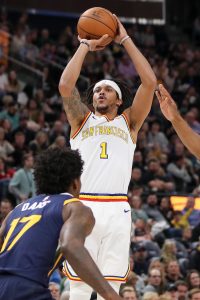 Rotation players Lee and Bowman have been two of the most likely candidates for promotions all season long. The Warriors have a pair of open roster spots, but based on their hard cap, they only have the flexibility to promote one of their two-way players for now.
Lee is expected to be first in line, as we heard when Golden State waived Marquese Chriss last week. A deal appeared imminent at that time, but nothing has been completed yet, even now that Lee has reached his 45-day NBA limit. It's possible the two sides are still haggling over the length of the contract (the Warriors could offer as many as four years), but the team may just be taking its time to maximize its financial flexibility below the hard cap.
Assuming Lee is promoted by Wednesday, as expected, Golden State figures to add a new two-way player to pair with Bowman, who may get a promotion of his own later in the season. The Dubs' new two-way player would be able to spend up to 24 days in the NBA before the end of the G League season.
Timothe Luwawu-Cabarrot (Nets)
Keith Smith of RealGM suggested on Sunday (via Twitter) that the Nets will likely move Luwawu-Cabarrot to the 15-man roster in the coming days, on either a standard contract or a 10-day deal.
Brooklyn won't technically have a roster spot open until Justin Anderson's 10-day pact expires on Wednesday night, but could terminate that contract a day or two early in order to promote Luwawu-Cabarrot and sign a new two-way player by Wednesday's deadline.
Norvel Pelle (Sixers)
Teams around the NBA are keeping an eye on Pelle, who only has a few NBA days left on his two-way deal, according to Keith Pompey of The Philadelphia Inquirer (Twitter links).
If the Sixers intend to promote Pelle, it'd be in their best interests to do it by Wednesday in order to sign a new two-way player to replace him. However, it remains unclear whether or not that will happen. After guaranteeing Trey Burke's salary last week, Philadelphia has a full 15-man roster and would probably have to release a player like Jonah Bolden, Raul Neto, or Kyle O'Quinn to make room for Pelle.
Photo courtesy of USA Today Sports Images.