7:10pm: The trade is now official, according to press releases from the Timberwolves, Heat, and Grizzlies. Minnesota became part of the deal by agreeing to acquire Johnson for Gorgui Dieng, as we outlined in a separate story, making it a three-team trade.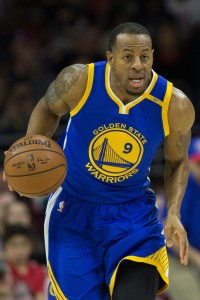 11:16am: The Grizzlies and Heat have agreed to a trade that will send Andre Iguodala, Jae Crowder, and Solomon Hill to Miami in exchange for Justise Winslow, Dion Waiters, and James Johnson, reports ESPN's Adrian Wojnarowski (via Twitter). No draft picks will be included in the deal.
Shams Charania of The Athletic (all Twitter links) first reported that Crowder, Hill, and Waiters would be involved in the trade, which broke last night.
There's still time for the agreement to be expanded to include the Thunder and Danilo Gallinari, but those talks between Oklahoma City and Miami have "fully stalled," according to Woj (Twitter link).
The Heat were hoping to fold an acquisition of the veteran forward into the trade, perhaps extending his contract in the process. However, Wojnarowski tweets that the Grizzlies and Heat are focusing on officially finalizing a two-team deal for now, with Miami still unable to reach an agreement for Gallinari.
Barry Jackson of The Miami Herald has heard similar rumblings, tweeting that Crowder and Hill could be re-routed to Oklahoma City if the deal is expanded to include Gallinari, but for now Hill is under the impression he'll end up in Miami, along with Crowder.
Even if the Heat can't land Gallinari, they'll add three veterans capable of playing rotation roles in Iguodala, Crowder, and Hill. Although Iguodala hasn't appeared in a game at all since being traded from Golden State to Memphis in July, he played key minutes on the Warriors' championship teams in recent years and will be well-rested for the stretch run.
As we detailed in a previous story, Iguodala and the Heat have reached an agreement on a two-year, $30MM contract extension as part of the trade. The second season of Iguodala's extension will reportedly be a team option, allowing Miami to retain its financial flexibility to participate in a loaded free agent class in 2021. The Heat are expected to guarantee the second season of Iguodala's deal for if they miss out on their top free agent targets in '21, per Wojnarowski (Twitter link).
Crowder and Hill, meanwhile, have helped the Grizzlies exceed expectations and compete for a playoff spot this season. Crowder has started 45 games, averaging 9.9 PPG and 6.2 RPG and playing strong perimeter defense, while Hill has averaged 5.7 PPG with a .381 3PT% in 48 games (18.8 MPG).
The trade will also help the Heat out financially, since they're sending out more money than they're taking back. ESPN's Bobby Marks tweets that Miami is now $3.4MM below its hard cap and reduced its projected tax bill by nearly $3.7MM. That could allow the Heat to be a player in the buyout market, though the team still has a full 15-man roster.
The franchise also cleared a significant amount of salary for 2020/21 in the deal, though Iguodala's extension cuts into that newfound flexibility a little.
As for the Grizzlies, they'll take on three pricey multiyear contracts in exchange for their three expiring deals. Having also extended Dillon Brooks on Wednesday, Memphis has gone from having $50MM in projected cap room to likely being over the cap this summer, tweets Jeff Siegel of Early Bird Rights.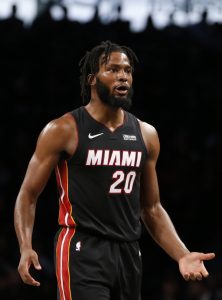 Winslow is the prize of the deal for Memphis. The former lottery pick is under contract for $13MM annually through 2021/22, with a team option on the final year. Winslow has flashed tantalizing upside as a ball-handler and defender, but injuries have limited him to just 11 games this season. He's currently sidelined with a lower back bone bruise.
Johnson and Waiters are on oversized contracts — Johnson is earning $15.35MM this season with a $16.05MM player option for 2020/21, while Waiters is owed $12.1MM this season and $12.65MM next year. Memphis' willingness to take on those deals signals that the team is willing to roll over its cap room to 2021.
Both Johnson and Waiters have spent much of the season in the doghouse in Miami, but Johnson has at least appeared in 18 games, averaging 5.7 PPG and 2.9 RPG on .448/.356/.571 shooting in 15.6 minutes per contest.
Photos courtesy of USA Today Sports Images.