4:15pm: The waiver process is complete and McRae belongs to the Pistons, tweets Chris Haynes of Yahoo Sports.
3:07pm: The Pistons intend to claim guard Jordan McRae off waivers this afternoon, according to ESPN's Adrian Wojnarowski (via Twitter).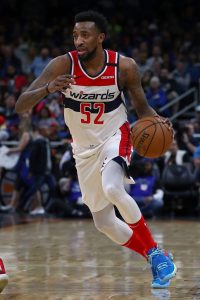 After reaching a buyout agreement with Denver on Sunday, McRae was officially released and appeared to be headed to Phoenix, with the Suns planning to place a waiver claim of their own. However, with Derrick Rose on the shelf due to an ankle injury, the Pistons were said to be eyeing McRae for backcourt depth.
Because the waiver priority order is determined by the NBA's reverse standings, Detroit (20-42) will be awarded McRae over Phoenix (24-38) if both teams submit claims. Technically, one of the five teams with a worse record than the Pistons could swoop in and steal McRae, but there has been no indication that will happen.
A fourth-year shooting guard, McRae was putting up the best numbers of his career in D.C. this season, recording 12.8 PPG, 3.6 RPG, and 2.8 APG on .420/.377/.371 shooting for the Wizards, though injuries limited him to just 29 games. He was sent to Denver in a deadline deal for Shabazz Napier and averaged just 8.0 MPG in four games for the Nuggets, who have an overcrowded rotation.
The two sides reached a deal on Sunday that allowed McRae to get a new opportunity, with the Nuggets opening up a roster spot and saving some money. Although the 28-year-old agreed to surrender $390,424 of his minimum salary, that agreement will be negated by the Pistons' waiver claim. Detroit will simply take on McRae's $1,645,357 expiring contract, which will come off Denver's books. The Pistons will be on the hook for paying the prorated salary remaining on the deal, while the Nuggets' financial obligation will be extinguished.
By claiming McRae off waivers, the Pistons will get his Early Bird rights, which will give them added flexibility to re-sign him this summer. No corresponding roster move will be necessary for Detroit, since the team has an open spot after letting Derrick Walton's 10-day contract expire earlier this week.
Photo courtesy of USA Today Sports Images.