Hoops Rumors is looking ahead at the 2020/21 salary cap situations for all 30 NBA teams. Due to the impact of the coronavirus pandemic on the NBA, it's impossible to know yet where the cap for 2020/21 will land. Given the league's lost revenue, we're assuming for now that it will stay the same as the '19/20 cap, but it's entirely possible it will end up higher or lower than that.

After placing second in the Western Conference and winning a playoff series in 2018/19, the Nuggets were on nearly an identical pace this season, holding a 43-22 record prior to the NBA's hiatus, the best mark of any non-L.A. team in the West.
In order to seriously contend for a title, Denver may need Jamal Murray and/or Michael Porter Jr. to evolve into a bona fide star alongside Nikola Jokic. In the meantime, the team isn't weighed down by a ton of onerous contracts, but also may not be in a position to comfortably retain both Jerami Grant and Paul Millsap if and when they reach unrestricted free agency this offseason.
Here's where things stand for the Nuggets financially in 2020/21, as we continue our Salary Cap Preview series:
Guaranteed Salary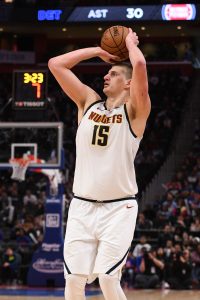 Nikola Jokic ($29,542,010)
Jamal Murray ($27,285,000) 1
Gary Harris ($19,160,714)
Will Barton ($13,723,214)
Michael Porter Jr. ($3,550,800)
Vlatko Cancar ($1,517,981)
PJ Dozier ($1,200,000) — Partial guarantee. Non-guaranteed portion noted below.
Total: $95,979,719

Player Options
Team Options
Non-Guaranteed Salary
Restricted Free Agents
Unrestricted Free Agents / Other Cap Holds
Paul Millsap ($38,199,000): Bird rights 4
Mason Plumlee ($21,061,644): Bird rights
No. 22 overall pick ($2,379,840)
Noah Vonleh ($2,400,000): Non-Bird rights
Troy Daniels ($1,620,564): Non-Bird rights
Richard Jefferson ($1,620,564): Non-Bird rights 5
Total: $67,281,612
Offseason Cap Outlook

The Nuggets have just shy of $96MM of guaranteed money on their books for 2020/21, but that's only for six or seven players. If we assume they'll retain Morris and Bates-Diop on their minimum-salary deals and keep their first-round pick, that salary total surpasses $100MM, likely eliminating the possibility of cap room for the 2020 offseason.
The Nuggets will have Bird rights on their three most important free agents – Grant, Millsap, and Craig – and could theoretically retain all three. However, depending on the price tags, that could push the club up into luxury tax territory, so some tough decisions may be on the horizon.
For now, we're assuming that Denver will look to avoid the tax, but if the team is willing to cross that threshold, it would lose the full mid-level exception and bi-annual exception, gaining access to the more modest taxpayer MLE.
Cap Exceptions Available
Mid-level exception: $9,258,000 6
Bi-annual exception: $3,623,000 6
Trade exception: $3,321,030 (expires 2/5/21)
Trade exception: $1,845,301 (expires 2/8/21)
Footnotes
This is a projected value. Murray's actual maximum salary will be 25% of the cap, wherever it lands.
Bates-Diop's salary becomes fully guaranteed after October 24.
Morris' salary becomes fully guaranteed after October 18.
Millsap's cap hold will be the lesser of $45,525,000 or 35% of the 2020/21 cap.
The cap hold for Jefferson remains on the Nuggets' books because he hasn't been renounced after going unsigned since 2018. He can't be used in a sign-and-trade deal.
This is a projected value.
Note: Minimum-salary and rookie-scale cap holds are based on the salary cap and could increase or decrease depending on where the cap lands.
Salary information from Basketball Insiders and Early Bird Rights was used in the creation of this post. Photo courtesy of USA Today Sports Images.