Bulls guard Kris Dunn won't be one of this offseason's marquee free agents, and a possible depressed market as a result of the coronavirus pandemic may limit his earning potential. However, the former first-round pick should be an intriguing option for teams looking to improve their backcourt defense.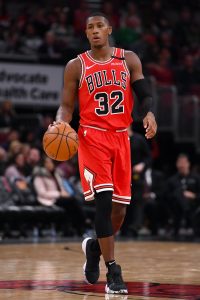 Dunn was Chicago's best perimeter defender in 2019/20 making a legit case for an All-Defense nod as he led all qualified players with 2.9 steals per 36 minutes. He also wasn't a major offensive liability, reducing his turnovers to 1.3 per game and posting a career-best .444 FG% as his usage rate declined.
However, there's one key question looming over Dunn's free agency that may dictate how his market plays out and what sort of deal he ends up signing. As a 2016 first-round pick, he's eligible for restricted free agency this offseason, but the Bulls will have to tender him a qualifying offer in order to make him restricted, and the amount of that QO remains up in the air.
[RELATED: Hoops Rumors Glossary: Qualifying Offers]
The amount of Dunn's qualifying offer – which is essentially a one-year contract offer that gives the Bulls the right of first refusal – hinges on whether or not he has met the starter criteria. If he has met the starter criteria, his QO will be worth $7,091,457. If he falls short, the value of the QO dips to $4,642,800.
We provide more details on the starter criteria in our glossary entry on the subject, but in Dunn's case, it's important to know that he would have met the starter criteria if he had started a total of 82 games over the last two seasons (an average of 41 per season). After starting 44 games in 2018/19, Dunn started just 32 games this year, for a total of 76.
However, the Bulls will only end up playing a total of 65 regular season games in 2019/20 as a result of the coronavirus pandemic and the suspension of the season. Dunn's camp could argue that his 32 starts should be prorated over a full 82-game schedule — in that case, he'd be credited for a total of 40 starts, increasing his two-year total to 84 and meeting the starter criteria.
The Bulls, on the other hand, could rightly argue that a knee injury which sidelined Dunn before the season was suspended was expected to keep him out of action for the rest of the club's season if it had ended on April 15, as initially expected. In other words, there would have been no way for him to get those last few starts he was "projected" for.
It's a tricky situation, and I'm not sure how the NBA will handle it. As ESPN's Bobby Marks wrote recently, requirements for certain incentives and bonuses are expected to be prorated to account for the shortened season to make things fair to players who fell just short of those incentives and would've met them given a full 82 games. But the starter criteria is a separate issue, and there are reasonable arguments on both sides — especially since the Bulls may not have started Dunn again even if he'd been able to return from his injury.
For a restricted free agent like Brandon Ingram, who most certainly won't accept his qualifying offer, this would be a non-issue. But for the Bulls and Dunn, the difference between a $4.6MM qualifying offer and one worth $7.1MM is significant, especially since there's not expected to be a ton of league-wide money available for free agents this offseason.
Would the Bulls still tender Dunn a qualifying offer if the price is $7.1MM? If not, the 26-year-old would become an unrestricted free agent. Would Dunn accept a $7.1MM qualifying offer if it's on the table? I don't think that's out of the question, considering it's not far off from a mid-level salary. Conversely, I think the Bulls would be far more inclined to offer a $4.6MM QO, while Dunn would be less likely to accept it.
It's not unreasonable to believe that a $2.5MM difference in potential qualifying offers could reshape what Dunn's free agency looks like, so it'll be fascinating to see how the NBA and NBPA determine that price point.
Photo courtesy of USA Today Sports Images.